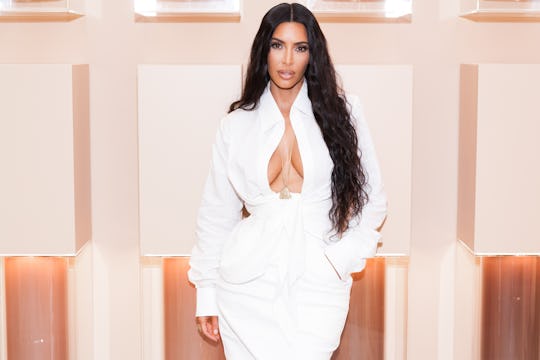 Presley Ann/Getty Images Entertainment/Getty Images
'Keeping Up With The Kardashians' Will Be Back Before You Know It
The Kardashian family is easy to keep track of when Keeping Up with the Kardashians is taking a break: you can follow their many members on social media, or check in when some new product or scandal makes the news. But while all that additional material makes waiting for a new season more bearable, it can't entirely fill the show's void. So when does KUWTK come back and give its fans a new season of shenanigans to watch?
The series returns on August 5, which means it's a relatively short wait until it's back on your screens again. In just four short weeks, you'll be able to relive all the developments in the Kardashians' lives from their perspective and maybe gain a little insider insight in the process. And the family has certainly had an action-packed last few months, which means there will be plenty of new ground to cover when KUWTK comes back.
The trailer for Season 15 hints at all the major moments to come. Narrated by Kim herself, the promo provides sneak peeks of sisterly squabbling, the arrival of new family members, and several hair changes. By the time you're done watching, you're going to wish it was August already.
Kim opens the trailer by speaking directly to camera from a chair on a busy set. She looks up from her phone to say hello, continuing, "It's Kimberly. Remember me? It's been a minute. Did you miss us? 'Cause we missed you. But don't worry. You didn't miss anything." Of course, as Kim speaks, clips start to appear all around her of everything the audience did miss, including workouts, weeping, and maybe even a vacation or two. Things have obviously been eventful for the family since Season 14 ended.
It looks like Khloe's pregnancy will feature into Season 15, which is no surprise considering fans have already been introduced to her newborn daughter True Thompson in the gap between seasons. Though Kim's voiceover assures fans that not much has changed, that proves to be patently untrue. Khloe is a mom now, as is younger sister Kylie Jenner, who recently gave birth to her daughter Stormi Webster. Kim's third child Chicago will also be making her debut during the fifteenth season, setting up the future premiere of KUWTK: The Next Generation in about twenty years or so.
Of course, some things truly haven't changed at all: Kim apparently thinks styling her hair in braids is not cultural appropriation. Spoiler alert, it is! Another thing that hasn't changed is the arguing between the siblings. Voiceover Kim remarks upon her closeness with her sisters, saying, "We've been keeping a low profile, and my sisters and I are closer than ever. It's like we can communicate without speaking, and we're just one big happy family."
But the irony of editing strikes again. Several spats break out in the minute-long trailer, leading to yelling, tears, and Kim's pronouncement that "she just doesn't want to be a Kardashian anymore." Who is that mysterious "she"? You'll have to wait until August to find out, unfortunately. But guessing is certainly a good way to pass the time!
The new season of KUWTK promises that there will be laughter and crying, hilarious moments and deeply questionable ones. For some reason, the trailer features women dressed head to toe in protective gear while smashing objects with hammers. Clearly, anything could happen in Season 15. Before the promo ends, Kim poses a single question to her audience: "Can you keep up?"
Fans will undoubtedly try to do their best as soon as the series makes its return.