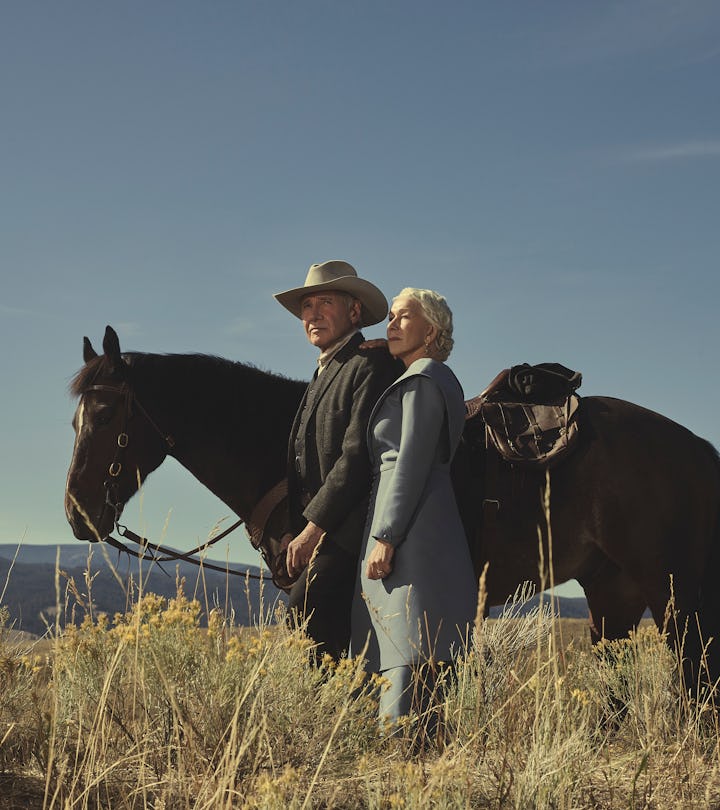 James Minchin III/Paramount+
1923 Will Deliver More Dutton Family Drama In Season 2 Of The Yellowstone Prequel
Here's everything we know so far.
The Dutton family drama is far from over, folks. With the highly dramatic, cliff-hanging finale of 1923 Season 1 behind us, fans of the Yellowstone prequel series are already itching for more episodes — and Paramount+ and creator Taylor Sheridan are ready to deliver. While release date and plot details are scarce at the moment, here's everything we know so far about 1923 Season 2.
Note: Spoilers for 1923 Season 1 are ahead.
Will 1923 return for Season 2?
Yes! Paramount+ announced in early February that 1923 has indeed been renewed for Season 2 and will return to Paramount+ in the near future. "There are more stories to tell… #1923TV will return for a second season," the network revealed on Instagram.
What is 1923 about?
With Harrison Ford and Helen Mirren starring as Jacob and Cara Dutton leading operations at the Yellowstone ranch in Montana during Prohibition and the Great Depression, 1923 takes place after the franchise's first prequel, origin story series, 1883.
In an interview with The Hollywood Reporter, Sheridan said that he chose to focus this series on the year 1923 because it was "a time of great drought, at a time of Prohibition, at a time of all this expansion — the Wild West was truly becoming a relevant center of resources." He added that viewers also get to see "the children that we've met in 1883 attempting to raise another generation of Dutton." And it's been a hit so far. In fact, the premiere episode of 1923 in December 2022 drew in a whopping 7.4 million viewers, according to Variety.
When will 1923 Season 2 premiere?
While filming for Season 2 of 1923 hasn't started yet and no release date has been announced, the Wall Street Journal reports that production will begin in Spring 2023. And it'll be a pricy venture. "Shooting on a second batch of eight episodes, with an estimated cost of $17 million each, is scheduled to start this spring," the magazine reported, which added that Season 1 took about 10 months to write, film, and produce. If Season 2 follows a similar timeline, it could premiere in Winter 2023 or early Spring 2024.
It's also unclear where exactly filming for Season 2 will take place — Season 1 filmed episodes not only in Montana, but also in South Africa, Tanzania, Kenya, and Malta — but it will surely feature the same beautiful cinematic experience fans have come to expect from the Yellowstone franchise.
How many episodes will be in 1923 Season 2?
As with Season 1, the second season of 1923 will also include eight episodes. And we can most likely expect each one to be an hour-long mini movie, as Sheridan intended. "He's produced a work of incredible ambition, scale, scope [and] cinematic ambition. Taylor thinks of each of these episodes as a one-hour movie," Ford told The Hollywood Reporter in December 2022. "And that's the product that we're getting."
Will the same 1923 cast return for Season 2?
The Season 1 finale appeared to hint that much of the ensemble cast (excluding John Sr. and Emma Dutton) will make it into 1923 Season 2, which will likely include:
Harrison Ford as patriarch Jacob Dutton
Helen Mirren as matriarch Cara Dutton
Brandon Sklenar as Spencer Dutton
Julia Schlaepfer as his Spencer's wife Alexandra
Darren Mann as Jack Dutton
Michelle Randolph as Jack's wife Elizabeth
Jerome Flynn as Banner Creighton
Aminah Nieves as Teonna Rainwater
What is the plot of 1923 Season 2?
No concrete details have been released yet, but 1923 Season 1 ended on a number of cliffhangers. Spencer was last seen on a dinghy, still so far from Montana, as he was being removed from RMS Majestic ocean liner en route to London. Stuck on the ship, Alex vowed to meet him in Bozeman. Jack and Elizabeth suffered a devastating miscarriage. Finally reunited with her father, Teonna is heading south to Wyoming, along with Hank's son, Pete. And teamed up with Scottish sheepherder Banner Creighton, wealthy business tycoon Donald Whitfield informs Jacob and Cara he paid the property taxes on the Yellowstone ranch, putting ownership of the Dutton family's land at risk.
As for Season 2, Mirren hinted that at least one resolution fans have been waiting for will come rather soon when the series returns. "I think Spencer's gonna show up pretty quickly," Mirren told Deadline in February. "I got the sense that Taylor was really imaginatively attracted to Spencer's adventures, which were great for the audience, I thought. He made a great storyline, which was really beautiful to watch. I hope Spencer comes home soon, though. I dunno how many more letters I've got in me."
Where can you watch 1923?
While several seasons of Yellowstone are also on Peacock, 1923 is only available to stream on Paramount+. But don't worry, all eight episodes can be watched right now and as many times you as need until Season 2 premieres.
This article was originally published on