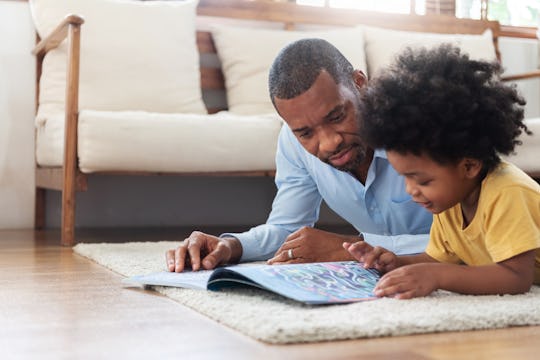 Shutterstock
18 Children's Books About September 11 To Educate Kids About The Tragedy Gently
Two decades later, these reads are a lasting reminder for a new generation.
For those of us who remember the unspeakable events of September 11 — and especially those of us who were in or near New York, Washington, or Shanksville — the anniversary still stirs deep emotions. It seems impossible to believe that more than 20 years have passed already. That's an entire generation of children who have no memories of the attack and know about it only through history lessons or by reading children's books about September 11.
My own Queens neighborhood lost 111 residents that day, both first responders and civilians who worked in the World Trade Center. Every year, a candlelight ceremony is held at our local park with music, speeches, and the reading of names. We can see the memorial blue lights from the skyline across the river. But while the adults in the crowd clutch flags and weep, the toddlers run around, the preschoolers fidget, and the older kids look solemn but uncomfortable. To my children, their peers, and all the children born after them, September 11 is as distant as Vietnam was to us, as Pearl Harbor was to our parents, and as Armistice Day was to our grandparents.
If we truly want to make good on our "never forget" vow, we have a responsibility to pass on the message to the next generation. Difficult as it may be, we must share our stories and memories and answer the tough questions. We must challenge our children not only to keep these events from fading from memory, but also to do their part to keep them from happening again.
Books are a valuable way for children to connect to a history they never lived, and in the last two decades, there have been a number of excellent books about September 11 that help explain what happened in a way that even small readers can understand.
We may receive a portion of sales if you purchase a product through a link in this article.
While some of these children's books about September 11 relate the events themselves, others focus on the triumph of hope over sorrow. You can honor the victims and survivors by adding these titles to your library.
This article was originally published on