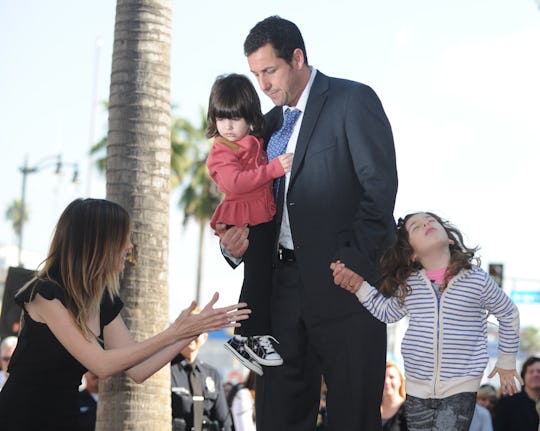 GABRIEL BOUYS/AFP/Getty Images
Adam Sandler's Wife & Daughters Have Been In So Many Of His Movies
The family business goes all the way back to Big Daddy.
There are some celebrities whose real lives are so different from their on-screen personas that you can't quite wrap your head around it. Adam Sandler is not one of those celebrities. The affable funny man just gives off such strong dad and husband energy that it seems his life and his on-screen personality are basically mirror images of each other. Although presumably his real life is probably more normal comedy than screwball, goofy comedy. At least we hope so for his family's sake. Here's what you need to know about Sandler's wife and kids.
Adam Sandler met his wife on the set of Big Daddy in 1999.
Sandler met model Jackie Titone when she had a small role in his film Big Daddy, where she played a waitress with just a few lines. But it seems the two just sort of knew right away that they were right for each other. As he wrote in a 2020 Instagram post, "22 years ago today we locked eyes and fell deep. Look forward to the next 22, young lady. Love you my forever girl."
After a year of dating, Jackie converted to Judaism for the man who famously wrote "The Hanukkah Song" during his Saturday Night Live years.
They married in 2003.
After dating for four years, the couple said their vows in a small ceremony in Malibu in 2003, where Sandler invited his dog Meatball to be his best man. Throughout their marriage, the pair have continued to collaborate with each other as Jackie frequently has roles in Sandler's movies like 50 First Dates, The Wedding Singer, and Murder Mystery. Perhaps even more importantly, they also collaborated on two daughters.
Their daughter Sadie was born in 2006.
Adam and Jackie Sandler welcomed their first child, daughter Sadie, in May 2006. And it was completely love at first sight for the proud dad, as he told Access Hollywood at the time, "You know what was funny? When my kid was born, I was so nervous, I didn't know what I felt," he explained. "Five minutes later, maybe 10 minutes later, it was me and the kid and a nurse. We walked down alone to just check the vital signs and all that stuff, and I had a chemical reaction in my body, where I loved the kid so much, and I was so nervous for her, and that's when I lost my mind for the kid."
Sadie gave him the news that he was going to be a dad of two.
When Sadie was just a toddler, she was the one who let her dad know he was going to be a dad of two after a long day of work. "I came home at night and [Jackie] kept saying 'Sadie wants to give you a present,' and normally Sadie falls asleep around 8. It was like quarter of 9 and I just got back from working," he explained during a 2008 interview, per People. "And then Sadie hands me a little something, like a gift. And I was 'Aww, that's nice Sadie, thank you.' And then Jackie kept saying 'Open it up, open it up.' And I open it up and it was one of those pregnancy [tests] and I was like 'Woowww.'"
Sunny joined the family in 2008.
Sandler became a dad of two when daughter Sunny joined the family in November 2008. And there were some serious adjustments to their sleep habits after her arrival. "Last night, my wife and I were falling asleep at 8 and we said, 'No, we're not giving into this sleep. Maybe we should go see a movie after the kids fall asleep,'" Sandler told HuffPost in 2014. "Well, the kids weren't falling. I'm in one room saying, 'Twenty more minutes until they fall asleep.' The next thing I know, I walk out of that room and my wife and my other daughter are curled up sleeping. I'm up half the night with the other one. Welcome to parenthood."
Both of his daughters have been in his movies.
Both 16-year-old Sadie and 14-year-old Sunny have been in their dad's movies, like Jack and Jill, Don't Mess With The Zohan, Pixels, Grown Ups, Murder Mystery, and Hubie Halloween.
They also joined him on stage in 2019 at a charity event to sing a rendition of Taylor Swift's "Lover," for which they received a standing ovation. After thanking the audience for "being so nice" to his daughters, Sandler said at the time, "They were dying to be a part it. Girls, you did great! Sounded awesome — confident and cool. I love you, now get out of here."
Adam Sandler really is just a guy who loves being a husband and a dad. No wonder he plays these roles so well in his movies.