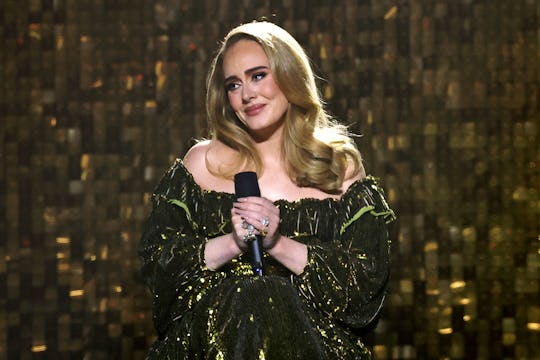 David M. Benett/Getty Images Entertainment/Getty Images
Adele's Grammy-Nominated Album Features A Beautiful Song Written For Her Son Angelo
The mom of one has said singing for him is "the honor of my life."
Adele is no stranger to Grammy wins. The English chanteuse boasts 15 wins and has been nominated for seven more at the 2023 Grammy Awards — Song of the Year, Record of the Year, Album of the Year, Best Music Video, Best Pop Album, Best Pop Solo Performance, and Best Music Film. But win or lose, she has millions of fans cheering her, including her son Angelo, to whom her Grammy-nominated song "Easy on Me" is dedicated. Here's what else you need to know about her little inspiration.
Adele met Angelo's father back in 2011.
Adele started dating Simon Konecki, a foreign exchange stockbroker from London, back in 2011. While she has not shared how the two met, she did open up about how his love and support helped her dig deeper into her music in an interview with 60 Minutes Australia in 2015. "Being in such an amazing relationship with someone that's so there for me and so loyal and is really part of my core now, that's what made me write about everything I've ever done, because I've got his love," she said at the time. "I know that sounds a bit like I'm trying to write a Hollywood movie, but it's only because of him and because of our kid and stuff that I'm alright."
They welcomed baby Angelo in 2012.
Adele shared that she had given birth to a healthy baby boy back in June of 2012, writing on her website at the time, "I wanted you to hear the news direct from me, obviously we're over the moon and very excited but please respect our privacy at this precious time. Yours always, Adele xx."
Adele struggled with postpartum depression.
The young mom was refreshingly candid about struggling with postpartum depression when Angelo was a baby, saying in a 2016 interview, "My knowledge of postpartum — or post-natal, as we call it in England — is that you don't want to be with your child; you're worried you might hurt your child; you're worried you weren't doing a good job. But I was obsessed with my child. I felt very inadequate; I felt like I'd made the worst decision of my life ... It can come in many different forms."
Performing in front of Angelo makes her emotional.
Adele got emotional performing "Someone Like You" at a 2016 concert in front of her little boy, tearing up as the crowd sang along with her and calling out to Angelo, "I love you so much." Years later she was still getting emotional singing in front of him. At her "One Night Only" performance last year, Adele admitted she was nervous singing in front of her son. She told him, "it's the absolute honor of my life to have you here tonight baby."
She struggled explaining her divorce to her son.
Adele and Konecki divorced in 2021 when her son was just 9 years old after four years of marriage. It was a difficult time for the family, and Adele attempted to explain the situation to her son even as he had a lot of questions she struggled to answer. Like why they all couldn't just keep living together, for instance. When Adele told her son, "That's just not what people do when they get divorced," he kept pressing. Which left her heartbroken. "I can't make that make sense to a 9-year-old," she told Vogue at the time. She and Konecki live on the same street in Los Angeles in an effort to make life easier for their son as they co-parent. Theirs is not a messy divorce; as Adele said in 2022, "over my dead body is my kid having a messy divorce in his life."
"My Little Love" was written for Angelo.
Adele's album 30 is full of songs about divorce and change, but one song in particular was written specifically for Angelo. "My Little Love," a song that features voice notes from their conversations about the changes in his life. Angelo is clearly his mom's inspiration.