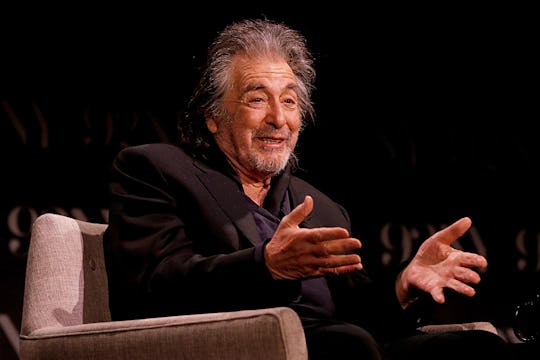 Dominik Bindl/Getty Images Entertainment/Getty Images
Al Pacino Is Expecting A Baby With His Girlfriend Noor Alfallah At 83 Years Old
The Godfather actor is already a dad of three adult children.
Robert De Niro is not the only Godfather actor to welcome a baby later in life. His 83-year-old frequent co-star Al Pacino is expecting a baby with his 29-year-old girlfriend, Noor Alfallah, which will make him a dad of four in the very near future.
A rep for Pacino confirmed to NBC News on Wednesday that the actor and Alfallah are expecting their first child together. TMZ first reported the news that Alfallah is currently eight months pregnant. The couple were first linked in April 2022 but have not publicly confirmed their relationship beyond Alfallah posting a photo with Pacino on Instagram that month.
Pacino is dad to three adult children already: 33-year-old daughter Julie-Marie who he shares with ex-girlfriend Jan Tarrant and 22-year-old twins Anton and Olivia with ex-girlfriend Beverly D'Angelo of Christmas Vacation fame. The famously private actor, who has never married, opened up about being a dad in a 2014 New Yorker article, saying that he always knew he wanted to be a dad. "It's the missing link, so to speak," he told the magazine. "Having children has helped a lot. I consciously knew that I didn't want to be like my dad. I wanted to be there. I have three children. I'm responsible to them. I'm a part of their life. When I'm not, it's upsetting to me and to them."
Pacino will join his longtime collaborator Robert De Niro in his role as an octogenarian father of a baby, as 79-year-old De Niro welcomed his seventh child, daughter Gia, with girlfriend Tiffany Chen in April. The rarity of two men their age welcoming babies was not lost on Twitter users. "Men can be so funny. Not Al Pacino having a baby at 82 so he and his bestie's new baby can be besties too," tweeted Roxane Gay. Another person tweeted, "did robert de niro and al pacino plan this or something?"
The expectant couple have not shared any updates on the sex of their baby nor their due date. If TMZ's source is correct, Pacino should be a dad again some time this summer.