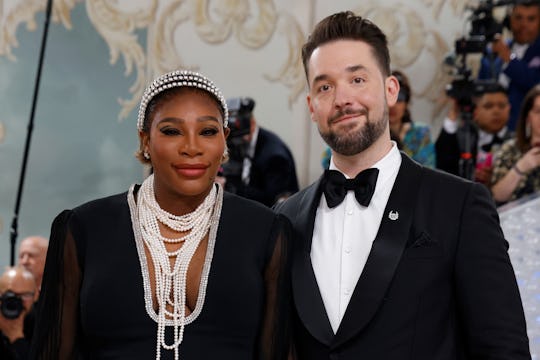 Taylor Hill/Getty Images Entertainment/Getty Images
Alexis Ohanian Shared A Cozy Photo With His 2 Daughters While On Paternity Leave
They're all just hanging out.
Reddit co-founder Alexis Ohanian has long been a vocal supporter of paternity leave, and we can absolutely see why. Not just because he wants to break down the antiquated stigma surrounding the concept of fathers taking time off to care for their new babies. But because, as evidenced in his new photo with his daughters, he just loves being with his girls. And he is setting a truly amazing example.
Ohanian and his wife, tennis legend Serena Williams, welcomed their second baby last month, a daughter they named Adira River Ohanian. The proud dad shared her arrival on social media last month, telling the world that the whole family, including 5-year-old daughter Olympia, was "teeming with love" to welcome its newest member.
"I'm grateful to report our house is teaming with love," he tweeted at the time. "A happy & healthy newborn girl and happy & healthy mama."
Now just weeks later, Ohanian shared an update on how their house is handling things. On Instagram, he shared a photo taken from behind as he sat on the sofa, cuddling baby Adira with Olympia curled up beside him, her arm resting on his, as they watched Miraculous: Tales of Ladybug & Cat Noir. He captioned the sweet shot "#PaternityLeave," and honestly it looked like the coziest little situation imaginable.
Ohanian wrote an op-ed for Fast Company in 2019 about the importance of paternity leave after a fitness CEO reportedly mocked a male executive for taking parental leave after the birth of his child. "While a small fraction of U.S. companies (9%) offer paid paternity leave, the stark reality is that many men don't take advantage of the opportunity, due to a looming stigma and fear of losing their standing — or, even worse, their job," Ohanian, who took four months parental leave when Olumpia was born, wrote in his op-ed at the time. "Unfortunately, those fears are not unfounded and that stigma is very real."
From a personal perspective, the dad of two told CNN in 2022 that he didn't grow up with younger siblings or spend time with babies before becoming a father, and credited paternity leave with making him "confident being around kids, because I got to spend that time learning and making mistakes and figuring it out."
He is setting a good example for everyone just by being there with his family. Paternity leave for the win.