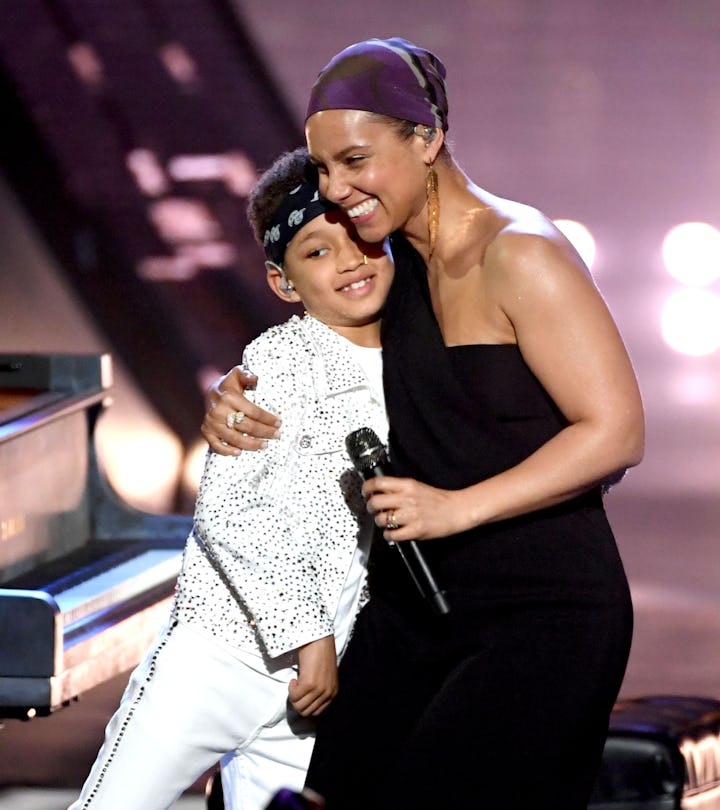 Kevin Winter/Getty Images Entertainment/Getty Images
Alicia Keys Gets "Frustrated" With Herself When She's Being Too Serious With Her Kids
"I just think it's really awesome to practice not being so serious."
Alicia Keys is a serious musician. She's a songwriter, producer, and classically trained pianist who packs stadiums with legions of fans who know every word to "Girl on Fire." She's also a mom to 11-year-old Egypt and 7-year-old Genesis with husband and music producer, Swizz Beatz. Keys is very proud of her "big beautiful" blended family, as a stepmom to Swizz's children from his previous marriage: Prince Nasir, 21, Kasseem Jr., 15, and Nicole, 13. She's also an incredible philanthropist and activist who fought against oppressive beauty standards and reclaimed them on her own terms. But what you might not know about the musical prodigy is that she's a big fan of LEGO bricks and being silly with her kids. In fact, she tells Romper she can get "frustrated" with herself when she's being too serious with them.
Indeed, Keys isn't afraid to dive into the toy box with her young sons. "We do a lot of imaginative play with the action figures...it's really fun to get lost in those worlds, we could do it for hours," Keys says. So it's no surprise that she joined forces with the LEGO Group to celebrate the 90th anniversary of one of the most iconic toys on the planet. She even flexed her whimsical-muscles by building a tiny piano in record time.
But for Keys, playing with toys isn't just about building blocks; it's a way of building self-esteem and "cultivating the confidence in yourself to build anything that you can imagine." The "Fallin" singer also connects fun and games to her song-writing and life philosophy. "Even when it might not look the best or come out exactly how you thought, it's like this beautiful idea of giving it a try and allowing your creativity to soar," she explains, "which is the same way I approach song-writing and the same way I approach life."
Also, why should kids have all the fun? "I just think it's really awesome to practice not being so serious, having a really fun time and showing your kids that you can relax and be silly and playful as well," shares Keys. "I think it's also good for you. There's been so many times I get so frustrated because I say 'It's bed time, don't talk anymore it's time for quiet.' And 45 minutes later they're still giggling, I'm like: 'Why don't I just laugh with them and we all just laugh? Who cares? We're up anyway.'"
And a PSA for parents everywhere: Keys reveals that playfulness might be one of the secrets to her unstoppable success. "It really does have a positive influence, not only on our careers but on the joy that we carry in our everyday lives. And I definitely think that shows our kids a lot."
There's no doubt that LEGO bricks have provided joy for Keys as an adult, particularly when her husband gifted her an incredible chain for her 40th birthday that she tells Romper, "I just love with all my heart."
And why stop at wearing LEGO bricks, when you can maybe make music from them too? "I would love to play an actual LEGO piano that played. Imagine if it was a real life-sized one — crazy!"
But just because Keys is a mom who likes to laugh, kick back, and enjoy some some bling, doesn't mean she also doesn't value the importance of clear boundaries. Keys shares that she recently had a great conversation about motherhood in one of her pre-show "Soul Chats" about setting boundaries with little ones. "They need to know that mommy has to read for 30 minutes here, and you guys should read quietly too because this is something that empowers me and influences me and really feeds me," says Keys.
"I'm deserving of feeding myself just as much as I love and always put so much attention on feeding you."
Now that's a mic drop statement every mom can get behind.