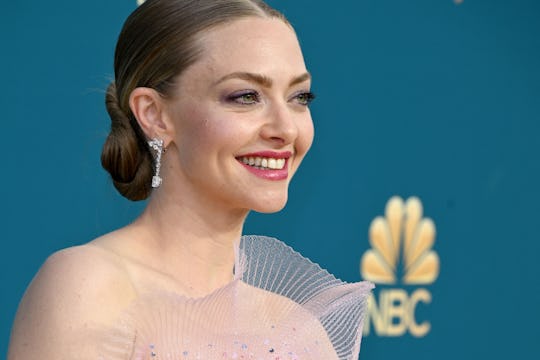 ROBYN BECK/AFP/Getty Images
Amanda Seyfried Tells Her Daughter To Go To Bed After Emmys Win
"You gotta go to bed now."
There are precious few things that are more important than your child's bedtime, but winning an Emmy award definitely tops the list! Amanda Seyfried won her first Emmy for Outstanding Lead Actress in a Limited or Anthology Series or Movie tonight, and she gave a special shoutout to her family, which included telling her 5-year-old daughter, Nina, to go to bed.
"Thanks, this is a really nice feeling," The Dropout star says in her acceptance speech, while shaking. She seems nervous and so excited as she thanks her fellow stars on the show and The Dropout creator Elizabeth Meriwether. "It was really hard, but it was the best time of my life," she continues about starring in the drama about sociopath Elizabeth Holmes and her biotech company Theranos. "And last but not least, my family. Hi! Bubs, you gotta go to bed now, but thanks!"
Seyfried, who looked radiant in a sparkling pink gown, also thanked her family, including husband Thomas Sadoski, mom Ann Seyfried, dad Jack Seyfried, and her kids Nina and Thomas, who turns 2 this month. And she made sure to mention her sweet dog as well! "Thank you my family, my mom, my husband, my dad, and my kids, and my dog, Finn. Thanks so much!" she added.
How adorable is that? She let her 5-year-old stay up to watch her mama on TV, and it was so worth it! Her toddler son was probably already in bed, but that's OK — he probably wouldn't have remembered the moment anyway.
Earlier in the night, the Mamma Mia: Here We Go Again star told Loni Love on the red carpet with E!, that her daughter "should be in bed." "But it's OK, it's fine," Seyfried added. "She can stay up as long as she likes."
She then turned to the camera to reinforce the message to her daughter, "You can stay up." But once the Mean Girls star won, it was time to bed for the preschooler, which is so relatable. Who wants to deal with a cranky kid in the morning? Even the cool moms like Seyfried understand the absolute necessity of making sure kids get enough shut-eye!