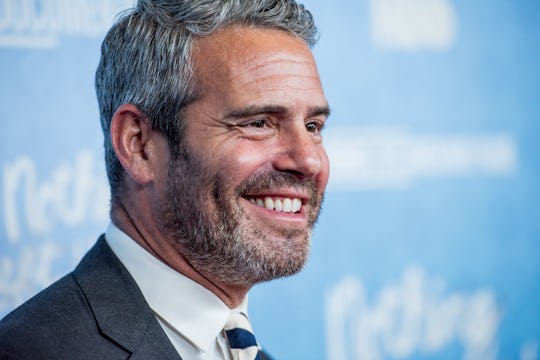 Roy Rochlin/FilmMagic/Getty Images
Andy Cohen Opens Up About His Experience As A Single Dad Changed After Lucy Was Born
"I just felt the experience got a little lonelier for me. I started to feel more vulnerable."
Andy Cohen has noticed a big change in his life since welcoming daughter Lucy one year ago. Before Lucy's arrival, Cohen was a single dad to just one child, 4-year-old son Benjamin. And now that he's a single dad of two, Cohen admits that he sometimes feels "lonelier" and "more vulnerable" than before. Which is something any single parent will totally understand, especially if they have more than one child.
Cohen sat down for a chat on the Two T's In A Pod podcast with former Real Housewives of Orange County stars Teddi Mellencamp and Tamra Judge. He spoke to the two women about his new book The Daddy Diaries: The Year I Grew Up, in which he wrote about his experience of being a single dad. Something that really changed after welcoming daughter Lucy Eve.
"The thing has been for me in the last year is when Lucy came, I think it really changed me as a parent," the Watch What Happens Live host admitted. "I felt way more in control when I had just one. Then when I had two, I not only felt... I don't want to say I felt out of control, but I just felt the experience got a little lonelier for me. I started to feel more vulnerable."
He went on to share a moment from a recent trip to the park with other parents that left him in tears. "The sprinklers went off, and I didn't know to have a change of clothes," he explained. "I looked around, and I'm the only single parent there. I'm the only gay dad. I just felt like I was on an island, and I went back to my house, and I cried."
Fortunately for Cohen, he does have a fellow single dad friend in Anderson Cooper to commiserate with and enjoy playdates, which hopefully makes things a bit easier. And of course, it is not as though Cohen doesn't love his life with his two kids. They've simply changed him in ways that continue to surprise him. "The kids make me feel different, about everything," he told Romper in November. "They've totally reframed my thought process on everything and they make me feel like my home is a home for the first time. I think my home used to be kind of a show place and a place that I could hang out, it was a place that I could entertain. But now, it truly is our home and especially at the holidays."
Single parenting, much like all parenting, comes with extreme highs and extreme lows. And well done to Andy Cohen for being honest about it.