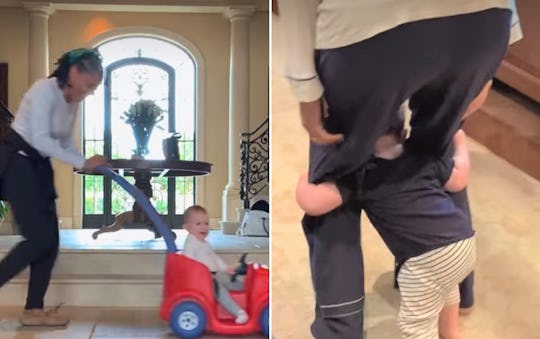 Netflix
Archie Giggles & Walks With His Grandma Doria In Adorable Clip Going Viral On TikTok
This precious moment was first seen in the final episode of the Duke and Duchess of Sussex's Netflix documentary Harry & Meghan.
Doria Ragland lives a pretty private life, but it's a pretty fabulous one too. As mom to Meghan Markle, she gets to hang out with her daughter's family at their home in California, not far from her own home in Los Angeles. And of course there's the big draw; those two cute grandchildren. Ragland clearly relishes her time with 3-year-old grandson Archie and 1-year-old granddaughter Lilibet, as evidenced by footage the Duke and Duchess of Sussex had previously shared of Archie learning to walk with his grandmother by his side. These two are clearly the best of friends.
The footage, which Andrew DeVitre (@thetvandmoviequeen) shared as a 15-second clip on TikTok, was first seen in Episode 6 of the couple's Netflix documentary Harry & Meghan. At first, Ragland is pushing little Archie around in a push car in a home video her daughter and son-in-law Prince Harry took when he was younger. Then Archie is seen learning to walk by clutching his grandmother's legs and sticking his little head between her knees as she tiptoes along to help him. Meghan can be heard saying to Archie, "are we walking?" He holds on tight to his grandmother's legs, and it's just about the cutest thing you've ever seen.
DeVitre's TikTok of the moment has gone viral with over 19,000 likes and hundreds of comments because who can resist these two pals? "Seeing Prince Archie learn how to walk in Prince Harry and Meghan Markle's home videos was so special," DeVitre wrote over the clip.
At the time, Meghan and Harry were staying at the home of Tyler Perry, who eventually became daughter Lilibet's godfather. The house was clearly very special to the whole family, as Meghan notes in the footage that "Archie took his first steps right here." With Grandma Doria Ragland watching, I bet.
Meghan Markle's mom Doria Ragland pushes her grandson, Prince Archie, in a toy car. Netflix
Prince Archie got to practice taking a few steps while holding onto his Grandma Doria's legs. Netflix
Ragland was featured fairly prominently in the Netflix documentary, which was something of a first for her. Unlike ex-husband Thomas Markle, Ragland has made a point of refusing to speak to the paparazzi about her daughter and son-in-law, instead choosing to enjoy her private life with the family. Meghan called her mom "classy" for choosing to stick with family in the documentary, which is true of course. But this video of her with Archie shows that she had lots to gain herself. A loving relationship with her daughter and son-in-law, and plenty of time with her grandchildren. And being there for Archie's first steps? Not too shabby.