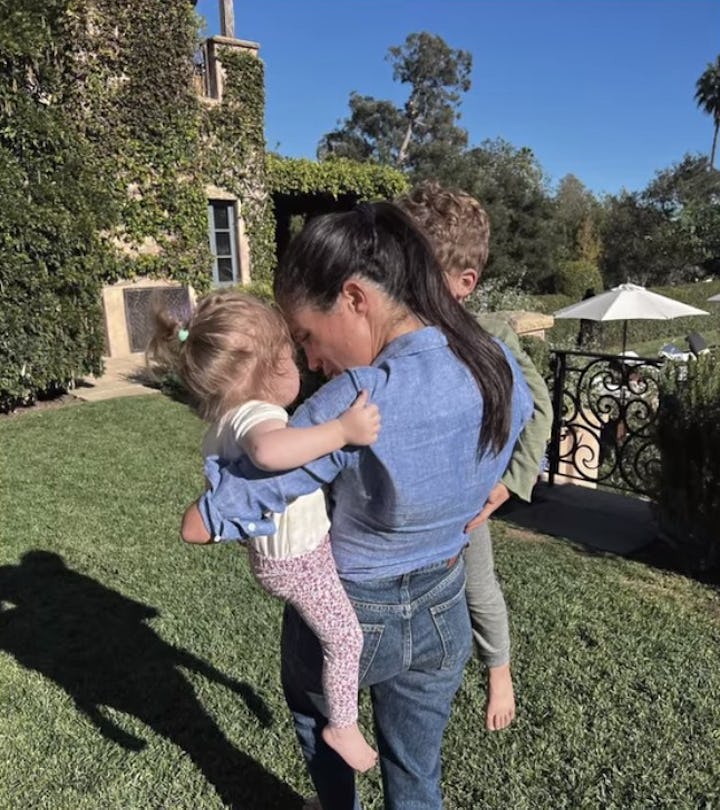 Netflix
12 Photos Of Meghan Markle's Precious Moments With Archie & Lilibet
We hope Harry gets some of these framed!
It's been a busy few years for Prince Harry and Meghan Markle. Getting married, having a baby, stepping back from the royal family, moving to Canada, moving to California, having a second baby, celebrating Harry's dad's big promotion party (something called a "coronation"? We're sure it was a quiet, understated affair.) It seems there's always something big happening with the Sussexes, but that doesn't mean there aren't quiet family moments as well, as evidenced by these sweet photos of Meghan Markle with Archie and Lilibet.
As much as part of us imagines a "behind the scenes" life filled with ancient jewels and Princess Anne on horseback for no particular reason, it's nice to know that theirs is a life full of far less pomp and circumstances at their (admittedly palatial) home in Montecito, California. For reasons that are completely understandable to anyone who knows even a tiny bit about Prince Harry's life or the couple's relationship, the Sussexes tend to be quite private about their family life and good on them for it.
Still, we got a glimpse into their home lives via their Netflix special — Harry & Meghan — back in December 2022. Though footage and photos of the Sussex children sparingly (honestly, we couldn't be happier to see them break a cycle of such entitled media frenzy for their little ones) what they chose to share was really very sweet. We got a glimpse at Archie's earliest days back in the United Kingdom...
... and his first look at snow in Vancouver Island.
Of course Archie wouldn't be an only child for long.
Shortly after his second birthday, on June 4, 2021, the couple welcomed their second child, Lilibet Diana, named after her grandmother, Queen Elizabeth II and Harry's mother, Princess Diana. (We love this picture just because so many of us moms have similar ones on our phones.)
Again, we don't have a trove of images of Meghan and her children — firstly because they've only chosen a handful of pics to make public and secondly, we're going to go out on a limb and guess that, as is the case with lots of family photos, mom is often the one behind the camera. But what we do have highlights that while these aren't everyday, ordinary people, their lives as parents is pretty familiar to a lot of people with young children.
It's great to see that the family appears to live a less complicated life now that they've put some distance between themselves, the House of Windsor, and (most importantly of all) the British tabloids. We hope the Harry, Meghan, Archie, and Lilibet can continue to have a happily ever after fit for princes and princesses.
(See what we did there?)
This article was originally published on