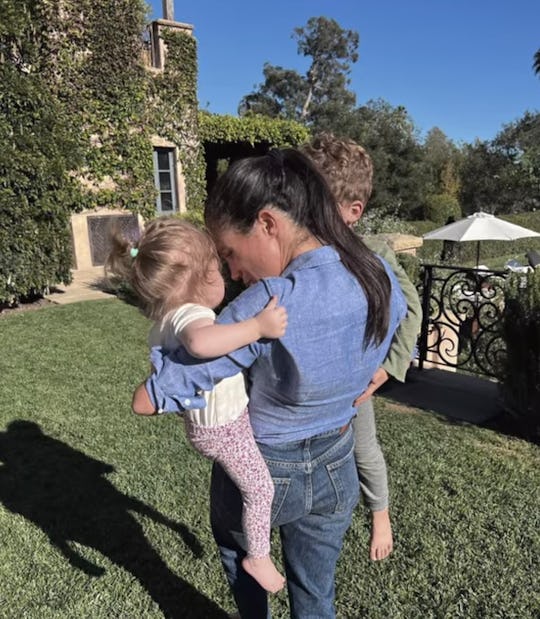 Netflix
Archie & Lilibet Had A British Celebrity Playdate At Their Montecito Home
James Corden visited Meghan Markle and Prince Harry in California with his wife and kids.
The Sussex children might not get too many opportunities to hang out with their royal cousins, but at least they have some British friends who come for playdates every now and then. Like James Corden's three kids. The entire family reportedly stopped in to visit Prince Harry and Meghan Markle's family in Montecito, California for a fun hangout, and now we can only hope that 4-year-old Archie and nearly 2-year-old Lilibet have picked up a bit of a British accent.
The Daily Mail reported that the former late night talk show host and his family, including wife Julia, 11-year-old son Max, 8-year-old daughter Carey, and 5-year-old daughter Charlotte, stopped in for a visit with the Sussex family recently. Corden has relocated back to the U.K. since stepping away from his role as host of The Late, Late Show, but made sure to stop in and see his friends when he returned to California for a visit. Corden's three kids are currently on their summer break, according to the publication, which means the family has the chance to do a bit of travel.
The dad of three has been a close friend of both Meghan and Harry for some time, of course. He and wife Julia were in attendance at the couple's 2018 royal wedding and Corden's interview with Prince Harry in 2021, which aired just days before Oprah Winfrey's interview with the couple, really highlighted the bond between the two.
This is not the first time the Cordens and the Sussexes got their kids together for a little playdate. Last May, Corden told The Sun that he and his family had already been guests at the couple's southern California estate where they kept things pretty casual. "It was more a sort of play date scenario [with the kids]. Then we went out for dinner after, it was lovely," he told the outlet at the time.
Enjoying a playdate with Corden's three children is a nice way for Archie and Lilibet to connect with their British roots. Particularly as they do not have many opportunities to bond with their Wales cousins, 9-year-old Prince George, 8-year-old Princess Charlotte, and 5-year-old Prince Louis. They have, however, spent time with Princess Eugenie's son Gus when the family visited Montecito in 2021. Plus their grandfather is the King of England. So there is that.