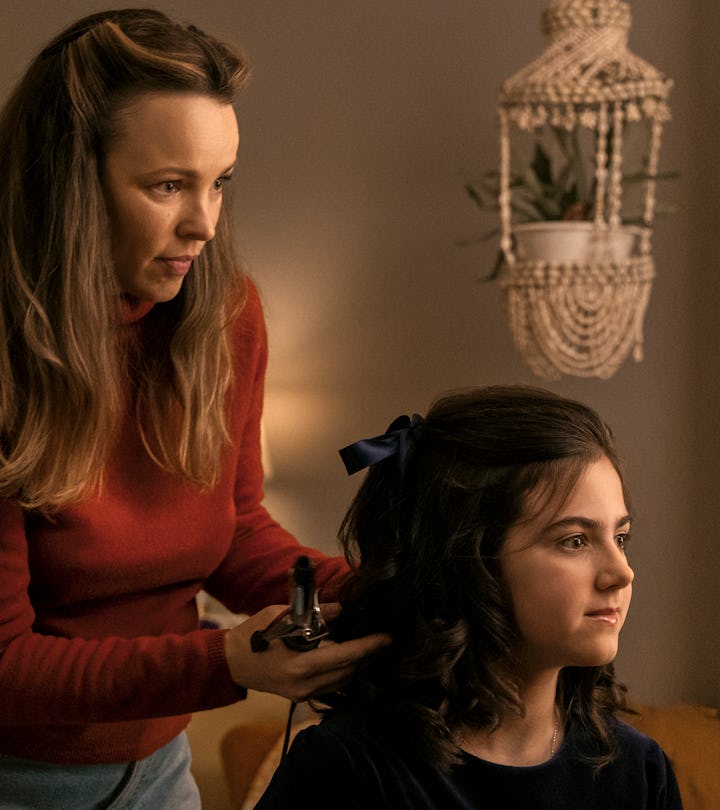 Dana Hawley, Lionsgate
Are You There God? It's Me, Margaret Helped Jolt Me Out Of Mom Burnout
It was the reminder I needed in the midst of the daily exhaustions of motherhood.
"She treats me like her own personal punching bag," I complained over the phone to my sister about my 7-year-old, Zadie. "Anything she's unhappy about, any tiny discomfort –– she blames it on me." I know my daughter's behavior is developmentally normal, but sometimes it's overwhelming — especially when paired with the daily grind of fixing ponytails that can never be perfect enough, coaxing a suddenly sloth-like child out the door, and negotiating about TV and snacks in the witching hour before dinner.
Recently I've felt flattened by that grind, especially as my husband's long work hours and time-consuming hobby as a cyclist leaves so much of the caregiving to me. My exhaustion has been compounded by the emotional tumult that's inherently baked into the mother-daughter relationship. I've wanted to simply lie down on the floor, close my eyes, and tell everyone they're on their own for dinner... for the next month.
My weariness around motherhood was still fraying my edges when my friend and I went to see an early screening of Are You There God? It's Me, Margaret, the adaptation of Judy Blume's classic middle grade novel. I settled into my seat in a state of fizzy anticipation. Blume is one of my favorite authors, and I expected the movie to be full of cringey, laugh-out-loud moments. I thought of my own cringey experience the day before, when I was sharing a public bathroom stall with Zadie and had to quickly change my tampon. "Does that go all the way in your vagina?" she asked in the same volume she might use on the playground. "Yep," I said, trying to act casual as my eyes darted to the pair of checkered Vans in the stall next to us. My mother had been private about such matters, and Judy Blume's books were my place to explore them. I always planned to be different with my own daughter.
Barbara is an ideal mother for a tween girl, warm and interested but also quick to give space and freedom when the situation calls for it.
While there is plenty of period talk in the movie — fellow fans of the book will remember it's the focus of many of Margaret's (Abby Ryder Fortson) prayers — what I didn't expect was to feel so inspired by Barbara Simon's (Rachel McAdams) approach to motherhood. Barbara is an ideal mother for a tween girl, warm and interested but also quick to give space and freedom when the situation calls for it. She respects Margaret's privacy, her desire to grow up and make her own decisions. Most of all Barbara seems to approach her relationship with Margaret with wonder –– fully present, absorbing everything, not taking a moment for granted.
When Barbara and Margaret go bra shopping, it quickly turns humiliating when the saleswoman warns they won't have bras small enough for Margaret. But Barbara exudes a matter of fact, maternal warmth that somehow diffuses the awkwardness. When they go into the dressing room for Margaret to try on her training bra, Barbara maintains that perfect balance of care and remove, letting her daughter make her own decisions about how she feels in this rite of passage rather than projecting her own emotions or opinions onto it. As I watched, I took mental notes for how I want to be in a few years when Zadie and I cross some of the same bridges together.
My eyes filled with tears during the climactic scene when Margaret finally gets her period and she calls for her mother. Barbara immediately celebrates the moment, laughing and weeping. "You're a woman!" she cries, and Margaret echoes in a silly voice, hands waving, "I'm a woman!"
As I sniffled in my seat I realized that something in my chest had been slowly unfurling throughout the film — a tension curled up tightly against the impact of my daughter's recent increase in whining, pressed by the weight of my parental exhaustion. By the last scene, gratitude bloomed in me like a delicate peony waving in the spring breeze.
A clear thought rang like a bell: "It's such a privilege to have a daughter." It was the reminder I needed in the midst of the daily exhaustions of motherhood.
I think of all my sweet mother-daughter moments with Zadie, like our ritual of getting frozen yogurt and eating it in the parked car with the windows down, blasting Kygo's "Higher Love." Or our recent binge-watch of The Baby-Sitters Club on Netflix and the ensuing conversations about which character we relate to most (I'm a Mary Anne, while Zadie's a combination of Kristy and Claudia). Or even shopping for clothes at Target, where I teach her that it never hurts to try something on, and where Zadie always dances in front of the dressing room mirror, celebrating herself with each new ensemble.
Yes, I might be Zadie's punching bag as she learns how to discharge her negative energy and tension in healthy ways. But I am also the ropes that she can lean against when she's weary, and when the circumstances of life send her flying, I am her soft place to land. I am the one answering her questions, the one showing her the steps to womanhood. But mostly, just like Barbara with Margaret, I am a witness to my daughter's becoming. And that is one of the greatest honors of my life.
Are You There God? It's Me, Margaret is in theaters April 28