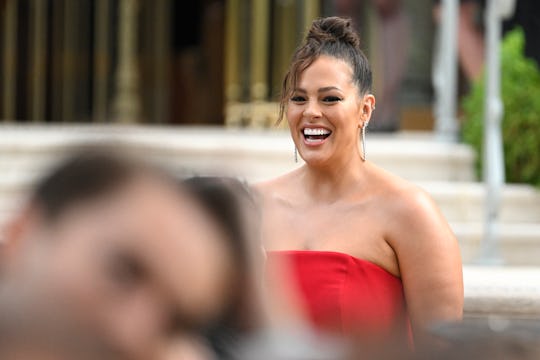 Gareth Cattermole/amfAR/Getty Images Entertainment/Getty Images
Ashley Graham Asked Parents For Their Best Potty Training Tips & Boy Did They Deliver
"Parents out there know this is a PROCESS."
Potty training is fun for no one. Not for the toddler who's never had to control their bladder before, not for the parents who need a god-like level of patience — and certainly not for the poor washing machine that will have to run all those extra loads due to the inevitable accidents. Ashley Graham knows it will be a struggle, so she's reached out to parents on Instagram for their best advice.
"We're starting potty training 😅,"Graham wrote in an Instagram post yesterday. "Parents out there know this is a PROCESS so please give me allllll your tips and tricks…"
"Lord knows I need them," she added.
The model is mom to Isaac, 2, and twins Roman and Malachi, 5 months, with husband Justin Ervin. In the video, she explained, "That's it! I can't keep changing three babies. It's like 15 diapers a day." Solidarity, sister!
Even if you're just changing one person's diapers, it can get so tedious! But it takes a village, and luckily, other parents came through for Graham, commenting their best advice.
"Sinking the cheerios in the toilet is fun," one mom wrote, referring to putting a piece of Cheerios cereal in the toilet bowl for boys to aim for when going potty. "Also, we set up a sticker chart for #1's and #2's. He was always so proud to put a new sticker up😊."
Another suggested going cold turkey and potty training completely naked. "Pottytrain nakey!!!" the mom wrote. "All mine got trained in 4 days tops just letting them run with no pants."
One mom suggested skipping the pull-ups stage and going straight to underwear. She wrote, "I raised to boys.. my advice to you is.. only do pull ups when your [sic] out in public. at home. no pull ups use toddler underwear. so when he's wet he feels it."
For active toddlers, one option is to bring the potty to them. One mom suggested putting little potty seats in every room. "Take off the undies and have potties in every room/ outside," she wrote. "They don't like when per runs down their leg or their undies are soaked. Let him lead. Lots of praise. Sticker rewards so it's a fun game or activity. You got this mama!"
At the end of the day, the most important thing is listening to your child's cues. This mom summed it up nicely, writing, "Give him time to work it out on his own. Don't get frustrated by the process. He'll get it eventually, they all do. ❤"
In the meantime, Graham is using Coterie's new pull-up style diaper called The Pant. "Isaac's been liking it so far!!" Graham wrote on her caption. "It allows him to run around more freely and I can easily change him standing up because the waistband is resealable!! He loooves feeling like a big boy while still being as comfy as he always was in @coterie ☁️."
The Pant is designed for active babies and comes in sizes 3-6. It has a diaper-like absorbency with the flexibility and independence of a pull-up. "Believe me, as soon as the twins are going to be crawling and their butts are big enough, I'm going to be getting them in these and then hopefully potty training," Graham said in the video, while holding The Pant.
Every kid is different and picks up potty training when they're ready. But it doesn't hurt to try the strategies that have worked for other parents!