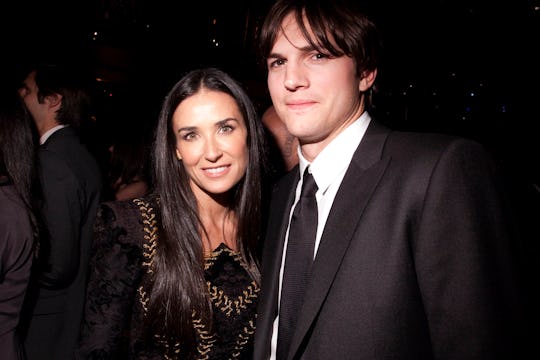 Fairchild Archive/Penske Media/Getty Images
Ashton Kutcher Says Becoming A Stepdad To Demi Moore's Daughters At 26 Was "A Lot"
"That's how some teen parents must experience their twenties."
Ashton Kutcher was 25 years old when he married 41-year-old Demi Moore in 2005, an age difference that was discussed ad nauseam at the time. Perhaps especially so because Moore was a mother of three daughters, then-12-year-old Rumer, 10-year-old Scout, and 8-year-old Tallulah, all of whom she shares with ex-husband Bruce Willis. While it feels fair to note that few media outlets would bat an eyelash at the age difference if the roles were reversed, seeing an up-and-coming young actor like Kutcher become a stepdad when so many of his contemporaries were living very different lifestyles was certainly interesting. And, according to a new interview with Esquire, the dad of two shared that it felt like "a lot" at the time.
Moore and Kutcher dated for two years before marrying, which meant he had time to bond with her three daughters. And bond he did. The actor told Esquire that he began taking on the care of his stepdaughters when Moore was working on location, which he found to be a learning experience at that young age. "I was twenty-six, bearing the responsibility of an eight-year-old, a ten-year-old, and a twelve-year-old," he told the magazine. "That's how some teen parents must experience their twenties."
He has since gone on to marry longtime friend Mila Kunis and welcome two children together, 8-year-old daughter Wyatt and 6-year-old son Dimitri, but continues to stay in touch with his former stepdaughters, telling Esquire that they were awesome as children just as they are awesome as women. But still, the experience was "a lot," he admitted.
During that time period, Kutcher and Moore were also trying to get pregnant and going through IVF treatments. They sadly suffered a late-term pregnancy loss, which Moore wrote about in her 2019 memoir Inside Out. And it was an experience Kutcher found painful to relive. When asked how he felt about the miscarriage, he told Esquire, "Losing a kid that you think you're going to have, and that close to thinking you're going to have a kid, is really, really painful. Everyone deals with that in different ways."
While both Moore and Kutcher have moved on with their lives, he with his children and she preparing to become an "unhinged grandma" to daughter Rumer's baby, it is nice to know that he honors their past together. As a husband and a stepfather to her three girls. Whether it felt like "a lot" at the time or not.