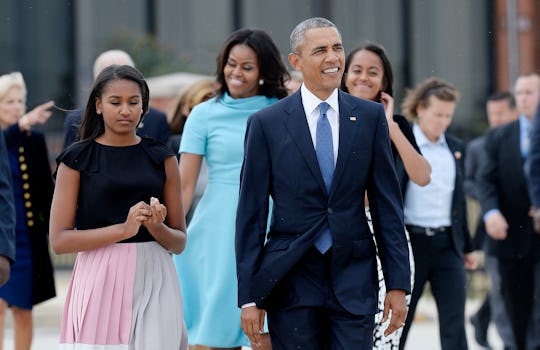 WHITE HOUSE POOL (ISP POOL IMAGES)/Corbis News/Getty Images
Barack Obama Says He's His "Family's Designated Photographer" & Dads Can Relate
"Of all that I've done in my life, I'm most proud of being Malia and Sasha's dad...and the family's designated photographer."
Aside from being the former President of the United States, Barack Obama has another important title he holds near and dear to his heart and it's one that could certainly resonate with all dads. For Father's Day, Obama tweeted a touching tribute to all dads, including a sweet nod to a special role he has in own family as their designated photographer.
"Happy Father's Day to all the dads and father-figures celebrating today!" the former president tweeted and posted on his Instagram. "Of all that I've done in my life, I'm most proud of being Malia and Sasha's dad...and the family's designated photographer."
Obama shared an image of himself taking a photograph of his family on his phone as they posed in front of the official portrait of his wife, former First Lady Michelle Obama.
"Sir, you are one of my dads. You made my growing up safe and hopeful," one person tweeted under the post. Another wrote on Instagram, "The family's designated photographer😂 that part 👏."
Also on the Instagram post, many remarked on Michelle's youthful resemblance, as the 58-year-old posed with her daughters, Malia, 23, and Sasha, 21. "Omg, I love how the FLOTUS looks like a sibling to the girls. Cutest family!" one commented. Another shared, "Not Michelle looking like one of their lil friends."
The former FLOTUS penned her own Father's Day tribute to her husband. "Happy Father's Day to dads everywhere!" she posted on her Instagram. "@BarackObama, thanks for being the most loving and caring father to our girls. We love you!"
Over the years, the Promised Land author has become a global father figure beyond his fatherly duties to Sasha and Malia. This past May, Jacob Philadelphia, the little boy who touched Obama's hair and went viral in 2009, graduated from high school and Obama congratulated him in a recent video posted on his Twitter. "That photo became one of our favorites – a reminder of the power of seeing yourself in your leaders," he captioned the reunion video.
Philadelphia reflected on the moment saying, "When I was younger, I just thought the President was just my dad's boss. I didn't know how powerful he was," the teen said. "I was a little shy and I kind of remember touching his hair and him towering over me. That was a pretty big highlight of my life... If I get to see another Black man be at the top, be at that pinnacle, then I want to follow that lead."
Needless to say, Obama's fatherly influence and impact will continue to stand the test of time and impact future generations. Even if he spends a lot of time behind the camera.