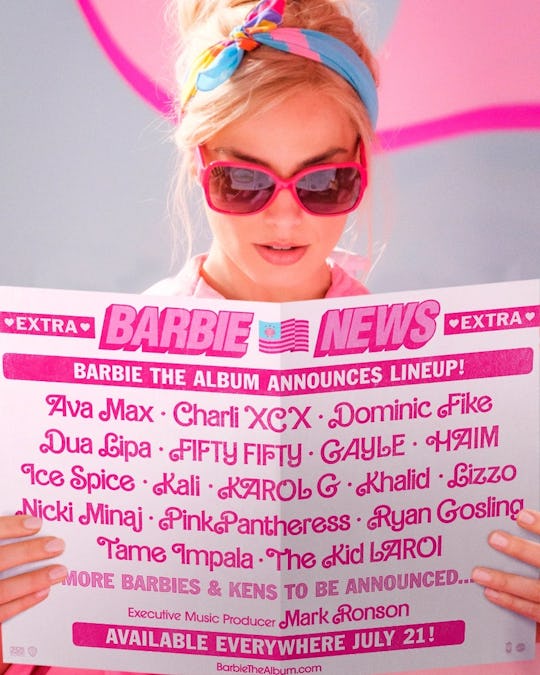 Barbie: The Album
Ryan Gosling Sings On The Barbie Soundtrack Along With Dua Lipa, Lizzo, & More
The full setlist will drop on July 21.
The plot of Greta Gerwig's live-action Barbie movie has been a close-kept secret throughout filming, as has the soundtrack which we all know sets the tone. Until now. On Thursday the main trailer for Barbie dropped and revealed that Barbie has an existential crisis and heads off to the real world. Ken comes along. And the music is absolutely a mood.
The Barbie soundtrack features Lizzo, Dua Lipa, and Ryan Gosling.
The artist line-up for the Barbie soundtrack was shared on Thursday along with a poster featuring Robbie as Barbie reading the Barbie News wearing pink sunglasses, with contributing artists' names on the front of the newspaper. Dua Lipa, Ice Spice, Nicki Minaj, Lizzo, and Khalid are just some of the artists contributing to the soundtrack.
The Barbie soundtrack, which was produced by Mark Ronson, promises "more Barbies and Kens to come," but it turns out there is one Ken who is already named on the line-up. The Ken of all Kens. Ryan Gosling has contributed music to the soundtrack, which shouldn't be terribly surprising as he does have a musical history. He sang in the Oscar-winning movie La La Land, and of course he was a member of The Mickey Mouse Club alongside Britney Spears and Justin Timberlake as a kid.
Dua Lipa's single on the Barbie soundtrack is called "Dance The Night."
Dua Lipa, who also stars in the Barbie movie, will be the first to release a single from the new soundtrack. "Dance The Night" drops at midnight on May 26; Dua Lipa shared a preview of it on Instagram with the message, "This Barbie has a song coming this week."
When is the Barbie soundtrack available?
The Barbie soundtrack won't be available until July 21, the same day the movie premieres in theaters. But here is the good news; there are a myriad of different ways people can listen to the soundtrack. You can order it on neon pink vinyl, on transparent pink or ocean blue cassette, or even limited edition and candy floss vinyl. The soundtrack can be pre-ordered by going to the Barbie the Album website, which is just about the pinkest website on the internet at this point. And the soundtrack, the movie, and the merchandise are all coming together to give us the Barbiecore summer of our dreams.