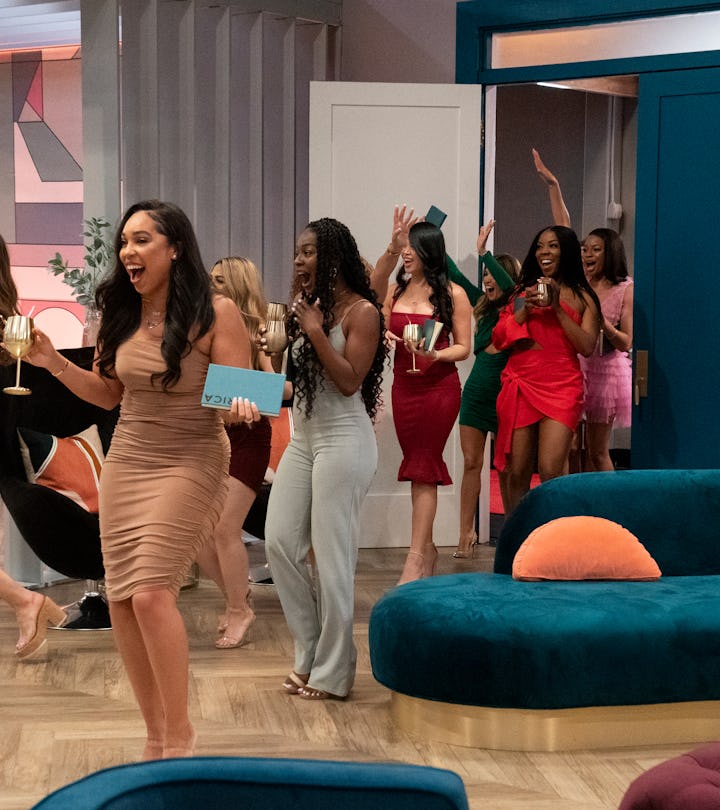 Netflix
15 Addictive Reality Dating TV Shows To Dive Into After The Kids Go To Bed
They're the TV equivalents of a steamy beach read.
Do you love drama as long as you're not involved in it? Is your favorite conversation starter in the world, "It's none of my business, but...?" Well then, if you've never given reality dating shows a shot, it's time that you dive in. Because maybe you're not the type to cause a complete scene when the person you're supposed to be exclusive with flirts with someone else, but these contestants are, and they rarely hold back.
Reality dating shows are the TV version of a steamy beach read: low-stakes drama, problems easily solved by healthy communication (which no one chooses to engage in), and summery settings galore. The fact that social media exists now makes these shows even juicier. The Bachelor and its many spinoffs predate Instagram, but now they can't film a season without the main man DMing with at least one of the ladies before the show starts.
We get to watch our favorite contestants' lives unfold after the show, and see how the tea spills over into their actual, real lives. With shows like The Ultimatum: Queer Love, where a year passes between the filming of the finale and the reunion, you can even sleuth a bit to try and uncover who's still dating who. The truly devoted can listen to weekly recap podcasts about their fave shows too (I recommend Your Mom & Dad and Two Black Girls, One Rose).
So, while it may not be the most scholarly genre on TV, reality dating shows are 100% worth obsessing over. When there's so much tragedy in the real world, watching a little "reality" where 20-somethings have lovers' quarrels on camera with margaritas in hand is a spicy way to unplug.
Whether you're looking to zone out for a bit in the evenings or find a steamy new obsession, reality dating shows might be juuust the thing you're looking for. So sit back and relax, islanders *wink wink*.
This article was originally published on