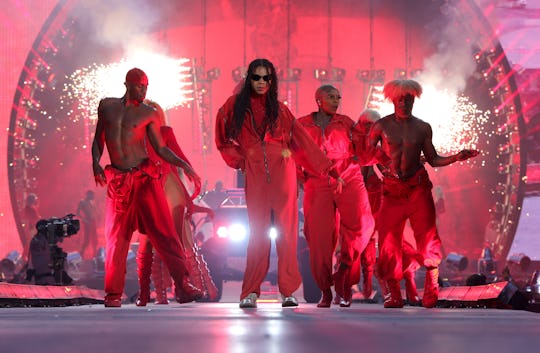 Kevin Mazur/WireImage/Getty Images
Beyoncé Says She's "So Proud" Of Blue Ivy After She Perfected Her Mom's Dance Moves
"I'm so proud and thankful to be your mama."
It's official. Beyoncé's daughter Blue Ivy is absolutely her mother's daughter. All you have to do is watch the 11-year-old's latest appearance on stage with her mom in Paris during her Renaissance tour. On Monday, Beyoncé shared a rare Instagram post to tell us all how "proud" she is of her oldest child after Blue joined other backup dancers on stage while Bey performed "My Power" from the 2019 Lion King soundtrack and her 2020 song "Black Parade."
In videos shared across social media, Beyoncé, who is also mom to 5-year-old twins Rumi and Sir with husband JAY-Z, announced her daughter's arrival onstage by calling out "Give it up for Blue!" Naturally everyone in the audience burst into appreciative applause.
Two days after Blue's performance, Beyoncé was shouting her daughter out again. In an Instagram post, she shared photos and clips from Blue Ivy's performance onstage along with a loving caption. "My beautiful first born 🙏🏾 I'm so proud and thankful to be your mama. You bring us so much joy, my sweet angel," Beyoncé captioned the post.
During her performance, Blue Ivy was wearing silver pants and a sparkly silver turtleneck, and in one clip she leads the other backup dancers with a very Beyoncé-like strut. She is, as her grandmother Tina Lawson wrote in her own appreciation post, "cool as a cucumber." But she's also still a kid, as evidenced by her big grin in one clip.
Fans of the mother-daughter duo could not get enough of Blue's performance. "The way I cried when she popped up on stage next to you!! It's an honor to watch the legacy continue! Go, Blue," wrote one Instagram user. Another joked, "It's great to see Blue letting you sing in her shows."
This is not Blue Ivy's first time performing with her mom, of course. She is actually the second youngest person ever to win an Emmy for the song the two recorded, "Brown Skin Girl." They also performed the song onstage together on Dubai. And Blue Ivy also joined Beyoncé's backup dancers at the Oscars when she performed "Be Alive" from the movie King Richard. No wonder she was as cool as a cucumber. This performance in Paris was not exactly her first rodeo.
Blue Ivy's younger siblings were on hand at her performance in Paris as well, according to a fan account's post on Twitter, with little sister Rumi cheering for her from the stands.
The creative gene is strong in this family. The twins might be the next ones to take the stage.