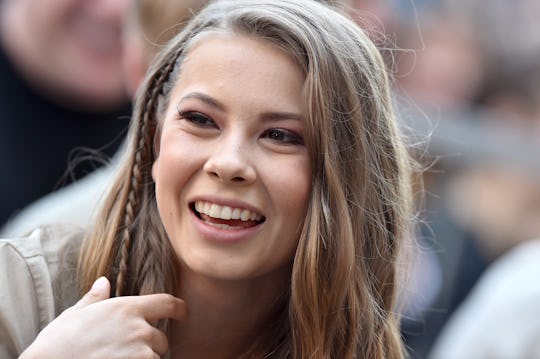 Axelle/Bauer-Griffin/FilmMagic/Getty Images
Bindi Irwin Shares She Had Surgery For Endometriosis After Living In Pain For 10 Years
"A doctor told me it was simply something you deal with as a woman."
Bindi Irwin is finally starting to heal after living in "insurmountable" pain for the past decade. The Crikey! It's The Irwins star revealed in a candid Instagram post that she's recovering from surgery for endometriosis, after having her pain dismissed by doctors for years. The 24-year-old mom of one also asked her fans to be "gentle" when asking if she, or anyone else, is planning to have another baby.
"I battled for a long time wondering if I should share this journey with you in such a public space. It came down to the responsibility I feel to share my story for other women who need help," Irwin began on Instagram. "For 10yrs I've struggled with insurmountable fatigue, pain & nausea. Trying to remain a positive person & hide the pain has been a very long road."
Over the past decade, Irwin explained that she's had many tests and scans done, and even had a doctor tell her that her pain "was simply something you deal with as a woman." She finally found answers when her friend, singer-songwriter Leslie Mosier, set her "on a path of regaining my life."
"I decided to undergo surgery for endometriosis," Irwin shared. "Going in for surgery was scary but I knew I couldn't live like I was. Every part of my life was getting torn apart because of the pain. To cut a long story short, they found 37 lesions, some very deep & difficult to remove, & a chocolate cyst." ("Chocolate cysts," also known as ovarian endometriomas, or are cysts filled with menstrual blood. They can cause pain and only develop in people with endometriosis, according to the Cleveland Clinic.)
"Validation for years of pain is indescribable," Irwin added.
In her post, she thanked her friends and family for pushing her to find answers, as well as the doctors and nurses who believed her pain. "I'm on the road to recovery & the gratitude I feel is overwhelming," Irwin continued. "To those questioning the cancelled plans, unanswered messages & absence — I had been pouring every ounce of the energy I had left into our daughter & family. Things may look fine on the outside looking in through the window of someone's life, however, that is not always the case. "
Endometriosis is a chronic disease that affects an estimated 10% of women of reproductive age, or roughly 190 million people, around the world, according to the World Health Organization (WHO). The painful condition is caused by tissue growing outside the uterus, Mayo Clinic explains. Symptoms include very painful menstrual cramps, heavy periods, abdominal and back pain, as well as infertility.
Irwin ended her post by directing her followers to The Endometriosis Foundation of America and asked those reading to treat questions about family planning and fertility with sensitivity. Irwin gave birth to her daughter, Grace Warrior, with her husband Chandler Powell in March 2021.
"Please be gentle & pause before asking me (or any woman) when we'll be having more children. After all that my body has gone through, I feel tremendously grateful that we have our gorgeous daughter. She feels like our family's miracle." Irwin wrote. "I'm aware of millions of women struggling with a similar story. There's stigma around this awful disease. I'm sharing my story for anyone who reads this & is quietly dealing with pain & no answers. Let this be your validation that your pain is real & you deserve help. Keep searching for answers."