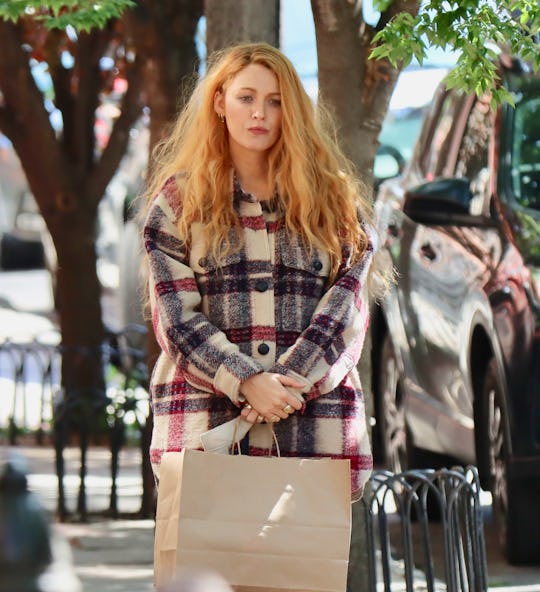 Nancy Rivera/Bauer-Griffin/GC Images/Getty Images
Blake Lively Makes Debut As Lily Bloom While Filming It Ends With Us
Lily Bloom is finally coming to life in the film adaptation of It Ends With Us.
Colleen Hoover has swept up hopeless romantics across the world by storm. She has won numerous different awards and titles, and quickly took over #BookTok. Her wildly popular 2016 novel, It Ends With Us, has earned the title as #1 on the New York Times Bestseller list. Seven years after it was released, It Ends With Us continues to rack up new readers and it is now being made into a film starring Blake Lively as the book's protagonist Lily Bloom. And we've already gotten a few behind-the-scenes looks at the characters bringing the book to life.
The film adaptation of It Ends With Us also stars Justin Baldoni as Ryle Kincaid, Lily's new and passionate, yet arrogant, love interest, and Brandon Skelnar as Atlas Corrigan, Lily's first love. Hoover has not shared how or if the movie will differ from the book at all, but the novel's storyline focuses on the parallels between Lily's past relationship with her abusive father and her adult relationships now. As Lily's relationship with Ryle progresses, she starts to notice similarities between him and her father, which causes her to question what she wants her life and future to be like. Does she stay with someone who could turn out like her father or does she risk the chance of being alone?
Filming for the movie began earlier this month and photographers have snapped several shots of Lively with Baldoni and Sklenar on the streets of New Jersey. So far, the photos of Lively as Lily have showcased more of a modest and simple style. She's wearing lots of layered and darker-colored pieces, some of which have more of a grunge look. Her clothing is more loose and flowy as well, perhaps symbolizing Lily's free-spirit personality. Lively has vibrant red-orange hair for the character, a distinct physical trait of Hoover's description of Lily.
There has been some controversy over the styling of Lily by fans of the novel. Twitter user @floatinoutside tweeted, "The It Ends With Us wardrobe team needs to be fired IMMEDIATELY."
Others think the casting overall for the film is just not right. @blnkspacebabe tweeted, "I love Blake Lively, but this is not Lily Bloom. Not even close. Why does she look so frumpy and disheveled? And like 20 years older than described in the books?"
Lively was photographed filming once again on May 25. In the new photos, she has sleeker hair as Lily compared to the photos above. She's dressed a little more edgy and younger, likely to show the contrast between her age when she meets Ryle and when she reconnects with Atlas.
The new photos did not bring fans any comfort for the styling, however. TikToker @chaitealattesandchilton posted a video showing the new photos with "Uh what" as the caption. The comments were filled with others who agreed. Like TikToker @helmhl who commented, "I can't even comprehend the pant situation." @chelsea849614 also commented, "I kept telling myself it's fine it's fine just wait it'll be good ... IT IS NOT FINE."
While feedback from fans has been a little brutal so far, it just goes to show how devoted Hoover's audience is to the story and how excited they are to see these characters come to life. Have faith, folks! It'll all come together!
Beyond Lively, Baldoni, and Sklenar, other celebs joining the cast is Jenny Slate as Alyssa, Lily's best friend, co-worker, and Ryle's sister, and Hasan Minhaj as Ryle's best friend Marshall. The film does not have a release date yet, but it is sure to bring thousands of fans to theaters to see the adaptation.