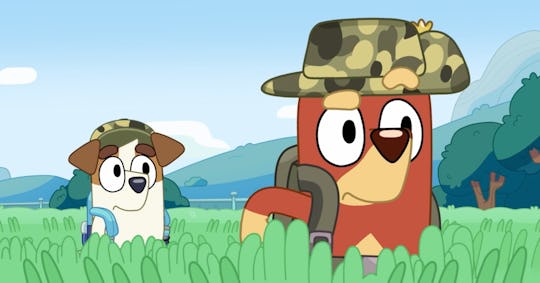 The 'Bluey' Episode That Is Secretly About ADHD
The magical Australian geniuses who created Bluey tell this story in a way that reminds us of the power of showing children just as they are.
The 13th episode of Season 2 of the beloved and, at times, absolutely perfect Australian kids cartoon, Bluey, is not about Bluey. It's not about Bingo, or Mom, or a magic xylophone, or the almost unbearable pain and beauty of the passage of time. Instead, "Army" introduces a new character, Jack, who, on his first day at Bluey's school, a Scandinavian-designed Waldorf hobbit-house situated on roughly 2,000 acres of land, is recruited into an imaginary game by Rusty, a child whose father, we learn, is in the army.
"Army" is my favorite episode of Bluey and it is the show at its absolute best, despite there being stiff competition ("Bumpy and the Wise Old Wolfhound" still makes me snot-cry).
It is clear to me, and apparently many others on Bluey fan Wiki, that Jack, the protagonist of this episode, has ADHD, and I've never seen the story of an ADHD kid told like this. Any parent whose child has discovered anger management through a Daniel Tiger song, or learned about autism from Sesame Street's Julia, can tell you that a children's show can be a great place to teach straightforward lessons. But Bluey's special gift, when it's great, is the absence of lessons; a refusal to portray the lives of children and parents as neat and tidy, and a preference for a light touch rather than a preachy one.
What a wonderful setting, then, for an episode about a child who never explicitly, but quite obviously, has ADHD. "Army" is narrated by Jack, entirely from his point of view, as he describes his day in great detail (ADHDers do tend to be long-winded). It starts with his drive to school, where his younger sibling rats on him for not sitting still in a way that is clearly mundane, and his father, who, after realizing Jack forgot his hat — presumably not for the first time — asks, "What are we going to do with you, Jack?" When they get to school, Jack's snitch of a sibling informs his teacher that Jack "can't sit still or remember anything," to which she wisely responds that he should go play with the kind of intense but also-laid-back kid who is dressed in fatigues and carrying a knapsack.
It shows us an ADHD kiddo as he is, living his daily life, doing something every kid does — delighting in a new skill and friendship and, of course, struggling to tell the main idea of a story.
The episode is full of exhilarating delights and unexpected moments of deep focus, just like the brain of someone with ADHD. We see Jack hesitate when asked if he has the skills required to be in Rusty's army, attempt to learn the code names and hand signals Rusty has invented, and, in the episode's denouement, help Rusty call for a "dustoff" rescue from the threat of a wandering turkey, by finally remembering the code name for a specific tree and running like hell, one thing that he is confident he's good at. Up in the helicopter/treehouse, when they finally catch their breath, Rusty asks Jack why he left his old school. Jack explains: "There's something going on with me, I'm not good at doing what I'm told, I can't sit still, and I can't remember anything, like numbers or letters or my hat."
"Well," Rusty replies, "you're really good at playing army."
As a teacher and school psychologist, I've worked with many, many Jacks. Boys who hear "sit still" and "pay attention" as if on a loop. Boys who have to leave schools where they aren't learning and try new ones (but most of them don't have a local school run by a child-whisperer named Calypso where kids are encouraged to lose themselves in a field all day). Boys whose siblings will be the first to tell you, sometimes from a place of love and protection, that they do things differently.
And there are girl Jacks out there too, of course. I was diagnosed with ADHD at the age of 36. Though I rarely sit down for long, I was not a squirrely little boy like Jack, rather, my hyperactivity presented itself in the ways we more commonly see it in girls: rapidly racing thoughts and, when I'm interested in a subject, a strong aversion to shutting up about it.
It is a common and justified complaint that disabled and neurodivergent characters, like characters of color, are never allowed to have regular lives. They must endure or overcome, suffer or educate.
When I watched "Army" for the first time, I saw myself, of course, in the way that Jack could be so bad at simple things but so good at complex ones, in his quiet, casual, self-disappointment, in his unwillingness to ignore a compelling distraction. And I realized I'd never seen "my boys," the term I often used to refer to the shifting gaggle of kids, most of them boys diagnosed with ADHD, who I usually attached myself to, depicted like this. Sure, there was "No, David," which many a student of mine read religiously, some of them quite explicit with me about how relieved they were to see reflected their experience of constantly infuriating adults without intending to. There was Hunter and His Remote Control, a book I read aloud to the class about a boy who has ADHD who creates a remote control for his brain, to help himself with his ADHD. There was Hank Zipzer. But all of these books had something in common. They were mostly about these boys having problems, and usually problems that adults had to solve or interpret for them or the audience, even if in the end they encouraged us to accept them. It is a common and justified complaint that disabled and neurodivergent characters, like characters of color, are never allowed to have regular lives. They must endure or overcome, suffer or educate. They cannot journey to a fantasy world of wild things or take a ride on the Polar Express. They must explain something.
But, though Jack's problems are alluded to, importantly, they are not over-dramatized. His family aren't villains, they are patient people who would like their child to remember his hat for once. Jack isn't bullied, and though we can imagine many moments where he is feeling pretty crappy about himself, this isn't one of them. It is a kind of victory, but an everyday one. It shows us an ADHD kiddo as he is, living his daily life, doing something every kid does — delighting in a new skill and friendship and, of course, struggling to tell the main idea of a story.
A story like this one, so undogmatic (pun intended) and relatable, owes something to the trails blazed by the OG of everyday children's stories, Beverly Cleary. When Cleary was first inspired to write about children, it was for a group of boys she had worked with years ago as a librarian in Yakima, Washington. "Where are the books about kids like us?" one of the boys had finally asked Cleary, after months of struggling to find books to engage them. At that time, children's books tended towards fantasy or straight-up dinkiness. Knights who went on quests. Puppies who got wet in the rain.
Cleary decided she would write about a boy named Henry Huggins, who came from a family of "modest means," whose hair looked like a "scrubbing brush," and whose dog, Ribsy, was a "city mutt" rather than the classic, noble, country dog. Thus spawned a whole world of books, including the spinoff series about Henry's neighbor, Ramona Quimby, which surpassed its predecessor in cultural significance. Like the Henry Huggins series, and like Bluey, the Ramona books teach no lessons, save for the one that every child and family has their ups and downs. These books, as a friend recently put it, "actually hold up" because of the presence of so many complex yet commonplace moments for children, presented without condescension or a secret agenda. Ramona fights with her sister, then becomes her ally. Her parents struggle for money, then make things work. A new baby comes, and is sometimes delightful and other times annoying. In other words, life.
Life in all its glory and mundanity is treated with a similar respect in "Army," but if there is a true lesson in the episode, it's that we should not make assumptions about the capacity of others based on one situation. A child can struggle to sit still in the car, but not in the field of battle. A kid can do poorly at one school, where they're not thought of as learning right, and fabulous at another, where they are allowed to take part in defining what learning is. It also teaches us that children are wildly resilient, in dramatic ways, like finding a way to commune with a deployed father through make-believe play. But it also captures the way that kids are capable, often more than adults, of experiencing everyday rejection and still summoning the will to try new things.
But at a bird's eye view, the existence of this episode, the fact that the magical Australian geniuses who created Bluey chose to tell this story this way, reminds us of the power of just showing children as they are, in all their physical, situational, and neurological diversity, as Beverly Cleary's boys demanded all those years ago.
We really cannot know what sinks in for our children and what doesn't. But that's the thing about representation. If there's enough of it, it becomes a kind of storyscape, a fabric that weaves itself into children's minds. It doesn't matter whether a lesson has been taught, because as all good teachers know, just because something has been taught doesn't mean it has been learned. It's not about a moral, a heroic journey, a cautionary tale. It's just about the idea that there's an untold number of equally valid ways to live a life, or to have a first day of school. As adults, all we can do is keep holding up mirrors to the lives of the real children we know, asking them to tell their stories, and refusing to portray them as more two-dimensional or extraordinary than they really are.
Interestingly, "Army" is also my son's favorite Bluey episode. When I ask him why, he does not tell me that it's because he finds it to be a humanizing portrait of life as an ADHD child. Though he refers to himself as "half-ADHD," in the way that he is half-Jewish, because he has it on his mother's side, he's more of a Bluey than a Jack. I'm pretty certain he loves "Army" for the part where they think an enemy is approaching through the grass, and it turns out to be a pretty goofy turkey. When I told him I was writing this, he wanted to make sure that everyone knew to look out for the turkey. I have explained to him what I got out of the episode, and he seemed to half-listen. I have to trust that he'll store it away somewhere in his rapidly growing head, where the mysterious alchemy that is his sense of what it means to be a person, lives.