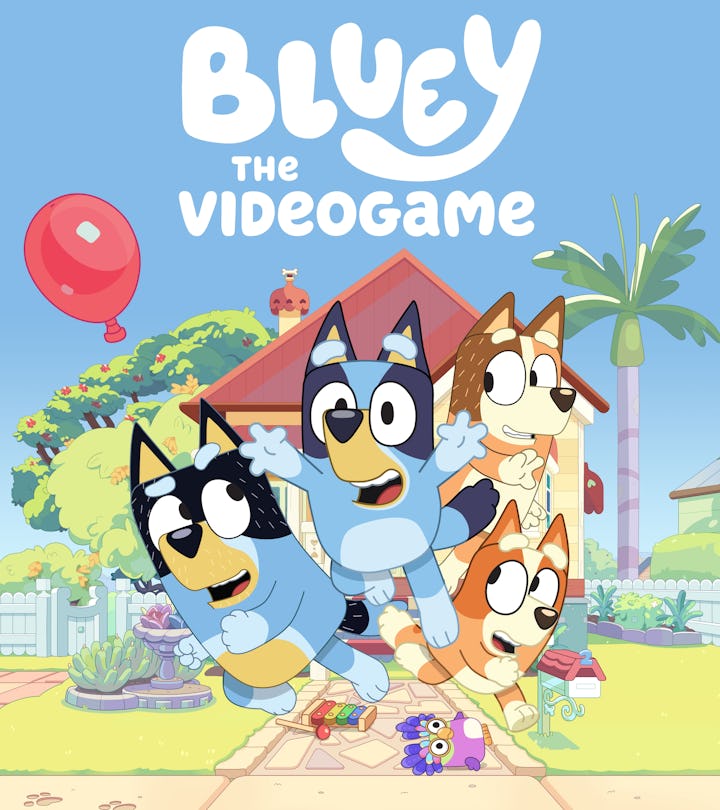 Outright Games | BBC
The First-Ever Bluey Video Game Is Launching Soon
Parents can finally live their dream of being Chilli and Bandit!
The beauty of Bluey lies in its ability to show how much learning and growth can happen through play. But while the Heeler family prefers games of make-believe, they do occasionally have fun with screens ("It's gotta be done.") And now, for the first time, your kids will be able to play with Bluey on screen as well. Outright Games, in partnership with BBC Studios, has announced that Bluey: The Videogame will be coming on Nov. 17, 2023 for Nintendo Switch, PlayStation 5, PlayStation 4, Xbox Series X/S, Xbox One, and PC.
"We're delighted to be working with Outight Games on Bluey's first video game," said Kevin Jorge, Head of Games at BBC Studios in a statement. "It's very important for us to capture the essence of fun and games that is central to the series. We know fans will be excited to explore Bluey's world and join in with the Heeler family's antics."
Up to four players playing as Bluey, Bingo, Chilli, or Bandit navigate their favorite show-locations — including the Heeler's home, the playground, and more — via story-driven, episodic gameplay. Complete activities in the four-part narrative to earn in-game rewards including fun costumes, stickers, playable episodes, and new locations. Featured minigames are inspired by favorite games from the series, a.k.a. yes, you will get to play Keepy Uppy and Magic Xylophone: for real life! The game also features voice actors David McCormack (Bandit) and Melanie Zanetti (Chilli) as well as Bluey music tracks from composer Joff Bush.
Check out the brand new trailer below...
Because this is a game geared toward younger players, it was designed with flexibility in mind. Kids can explore it at their own pace, jump between story quests, activities, and just exploring this interactive world. And, because developers know Bluey boasts fans of all ages, you can even set the difficulty level to your preferences so that preschoolers can feel accomplished and older fans can feel challenged.
"It is always our goal to create games that can act as an entry point to the world of video games and to some of the most important entertainment franchises on the planet like Bluey," said Stephanie Malhan, COO of Outright Games in a press release. "It's a thrill for us to bring Bluey's world to life with a level of interactivity that has never been seen before, and by ensuring that the game is accessible and enjoyable for all ages we know fans across the globe will be delighted."
Honestly, we're just really excited to have a chance to walk in Chilli and Bandit's shoes (paws?) in the hopes that it will infuse us with some of their magical parenting powers...