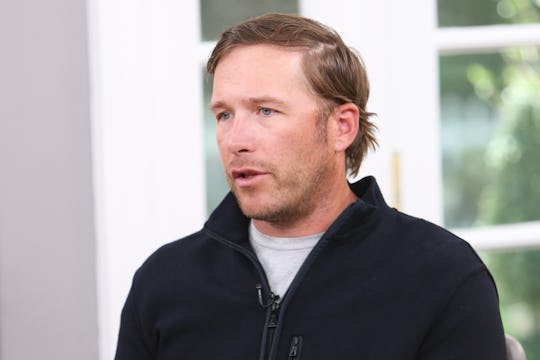 Paul Archuleta/Getty Images Entertainment/Getty Images
Bode Miller Had His Son Run Up A Hill After Quitting His Soccer Team
"Enforcing consequences isn't my favorite part of parenting, but learning from them is important."
Olympic skier Bode Miller was not impressed with his son's decision to quit soccer. The dad of eight shared on Instagram that he believed his son needed to learn a lesson about never quitting and had him run up a hill while he drove slowly behind him, filming him the entire time, as a "consequence" for quitting on his team.
On Tuesday, Miller made it clear in an Instagram post that he has expectations for his son. In a video taken from his car, Miller followed his son, though he did not share which son it was, as he ran up a hill.
"After quitting on his soccer team during his first game of the year, I let him run the hill," Miller captioned the post. "Enforcing consequences isn't my favorite part of parenting, but learning from them is important. This was about so much more than a game of soccer. It's about teaching our kids never to quit."
Miller shares 7-year-old son Nash, 4-year-old son Easton, 3-year-old twins Asher and Aksel, and 18-month-old daughter Scarlet with wife Morgan. He also has 9-year-old son Nate and 14-year-old daughter Dace from previous relationships, and sadly the family lost 19-month-old daughter Emeline in a tragic drowning accident in 2018.
Miller's consequence for his son was a bit divisive in the comment section, which he eventually turned off. "I commend you Bode — he was part of a team & others were counting on him, especially during the game. There are consequences in life — we don't always get what we want," one commenter wrote, per People. "He may not like it now — but we will learn responsibility."
Another commenter disagreed, per Unofficial Networks, writing. "This is actually insane. Kids are their own people that are growing into adulthood. They are not your vessel to fulfill your own personal expectations. Get it through your thick skulls that your kid will not be a pro athlete or a Harvard graduate and that is perfectly fine. As long as they are good people. Raising them this way can cause extreme resentment and serious emotional development issues."
While some might have been worried, Miller explained that it was his son's idea. "For those who are concerned, the hill running was his idea," Miller added. "He said he didn't run during the game. This kid is next level. #prouddad."