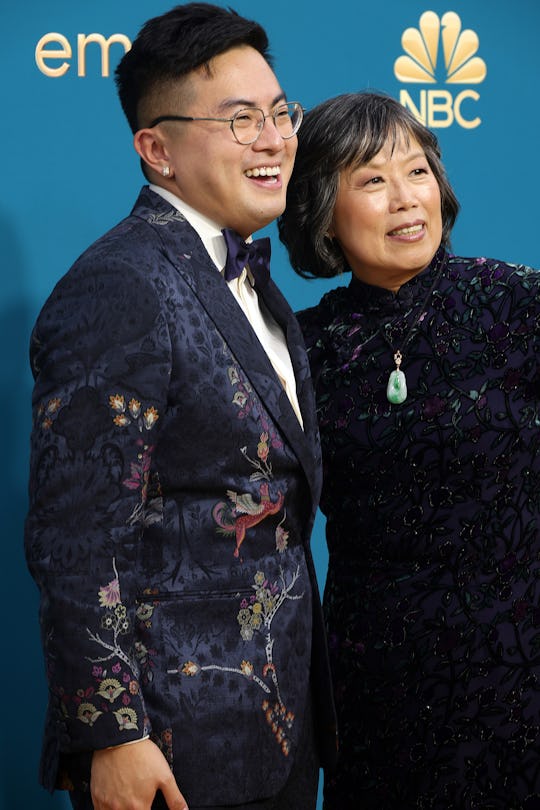 Momodu Mansaray/Getty Images Entertainment/Getty Images
Bowen Yang Took His Mom To The 2022 Emmys & She Was Adorably Proud Of Him
"He's my best, best son."
Bowen Yang's mom, Meng, was one proud mama on the red carpet with her son. The Saturday Night Live writer took his OB-GYN mom as his date to the 2022 Emmy Awards, where the duo gave a sweet interview on the red carpet that gave us a glimpse at their fun banter.
"It's incredibly important to have my mother here," Yang told reporters, per People. "She's someone who for years, decades even, didn't understand what I was doing when I would go to improv practice or, you know, do comedy shows in the city. She's really seen me win. So it's a big deal."
Then Meng told reporters, "He's my best, best son," to which Yang responded, "I'm her only son." Aww! She is practically glowing with love for her son.
"He works very hard all the time, and he got what he deserves," she continued. "I'm very proud of him."
Yang is nominated for Supporting Actor in a Comedy Series for SNL for the second year in a row. Last year, Yang wore stunning silver heels to the 2021 Emmy Awards, where his nomination for Supporting Actor in a Comedy Series made him the first Chinese American male acting nominee in the category and the first SNL featured player to receive the nomination.
He was nominated for his first Emmy in 2019 for Outstanding Writing for a Variety Series.
The actor, comedian, and writer has also appeared in The Lost City and has several upcoming projects, including the 2023 The Monkey King and the 2024 The Tiger's Apprentice.
His mom certainly has a lot to be proud of, and she seemed so honored to be invited to this prestigious event with her son. If he was up for son of the year award, he would definitely win!