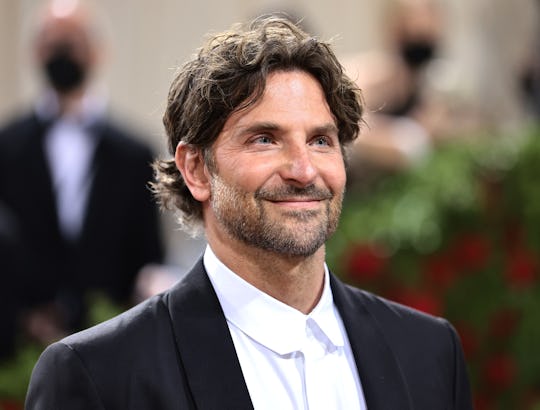 Jamie McCarthy/Getty Images Entertainment/Getty Images
Bradley Cooper Jokes He Watches The Hangover With His Daughter "Every Friday Night"
The actor's daughter, 5-year-old Lea De Seine, is a big fan of the Baha Men.
Bradley Cooper rarely talks about his life with his 5-year-old daughter Lea. He and ex-partner Irina Shayk co-parent their little girl away from social media, away from paparazzi, away from their lives as celebrities. Mostly. During a recent interview on the Smartless podcast, the A Star Is Born actor gave a rare glimpse into his life as a single dad, and it seems his daughter does have a bit of an inkling into what her dad does for a job. And might even be a fan of one of his most famous movies.
In Monday's episode of Smartless, the podcast's 100th episode, Cooper spoke to hosts longtime friends Will Arnett, Jason Bateman, and Sean Hayes about finding his own self worth in recent years. And how his little girl helped him find that path.
"Fatherhood; I mean, everything changed," Cooper told Bateman. "Everything is shaded by, or brought into glorious colors, by the fact that I get to be a father to a wonderful human being." Cooper went on to note that while he might have one or two amazing moments of breakthrough in a day as an actor, "You have 40 of those moments every day with your kid. That are that level of joy."
The proud dad went on to admit that every moment with his daughter, including when she stands in front of him waiting for her to "wipe her butt," is the "greatest moment of my life."
Another great moment Cooper was ecstatic to share was a clip of his daughter singing "Who Let The Dogs Out" by the Baha Men, which he said could be the inspiration for The Hangover 4 if it ever happened. "Did she get that from watching the movie? Is that where she learned that?" Hayes asked Cooper, who answered, "Sure, yeah, we watch it every Friday night."
He's kidding, right?
Cooper's daughter might not see him in movies like The Hangover, but she's already a little film buff. So much so that he told Stephen Colbert last Christmas that he felt like he really let her down with her Christmas gift. "For those of you that have kids, they really push that Ghostbusters laser on every commercial in between cartoons, so she wanted that, she had to get that. She got that," Cooper said on The Late Show, adding that she didn't really think it was realistic enough for her. "She's like 'Where's the laser, though?' It's just a little plastic thing, but you do capture the ghost... She wanted the real laser."
She might not have gotten a real laser, but little Lea certainly has a really great dad.