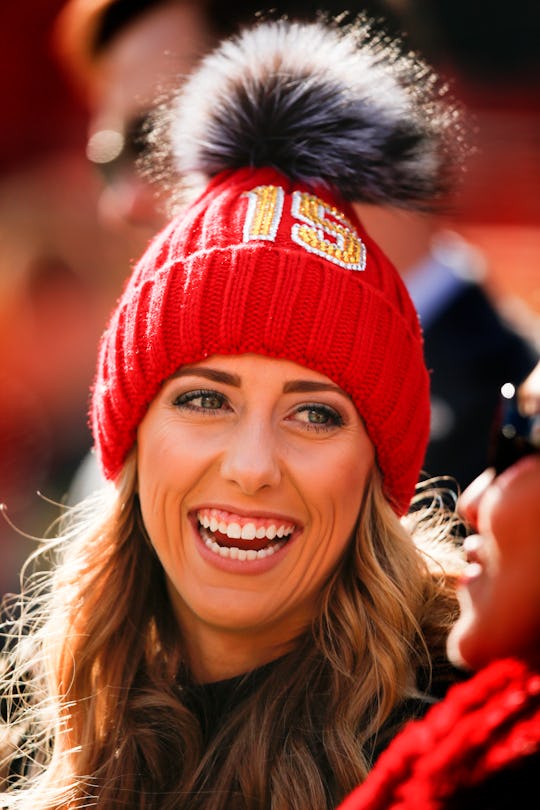 David Eulitt/Getty Images Sport/Getty Images
Brittany Mahomes Shares Photo Of Herself Pumping Breast Milk In Pilates Class
America's hero, everyone.
If you think Kansas City Chiefs' quarterback Patrick Mahomes is multitalented, check out his wife. Not only is mom of two Brittany Mahomes managing to do a pilates class with friends mere months after welcoming son Bronze Mahomes, she also stopped mid class to casually pump breast milk for her baby boy. So basically she won her own little Super Bowl with this move.
The happy couple welcomed their son, Patrick "Bronze" Lavon Mahomes, at the end of November 2022, and it seems they are getting into the new routine of it all. Patrick Mahomes went ahead and won the Super Bowl match-up against the Philadelphia Eagles, for instance, while his 2-year-old daughter Sterling watched from the sidelines and son Bronze wore his a onesie at home. And Brittany Mahomes is getting into the swing of things by enjoying a pilates class with her friends.
On her Instagram Story, the entrepreneur shared a photo of herself smiling on the floor beside her friends (who were still in the middle of class) while using her in-bra breast pump on a break from her pilates practice. "Pilates & pumping, it's a good time," she captioned the photo.
Talk about a sporty family. Patrick Mahomes doing that whole football thing while Brittany Mahomes pumps breast milk in pilates class. That's no easy feat because pumping is not without its difficulties. Things like blocked milk ducts, soreness and dryness, and finding the right pump can all lead to real struggles with trying to keep your baby fed. And here's Brittany Mahomes smiling away while she does it during pilates. America's hero.
While both Brittany and Patrick Mahomes might be all about sports, that doesn't mean they'll expect the same for their children when they grow up. "I think that's the best thing for me," he told People. "I'm going to help teach my son, my daughter, all the fundamentals and whatever they want to learn. But at the same time, I want to stay out of the way and let it be about them."
Certainly Brittany Mahomes' pilates class ended up being all about Bronze, so they're off to a good start.