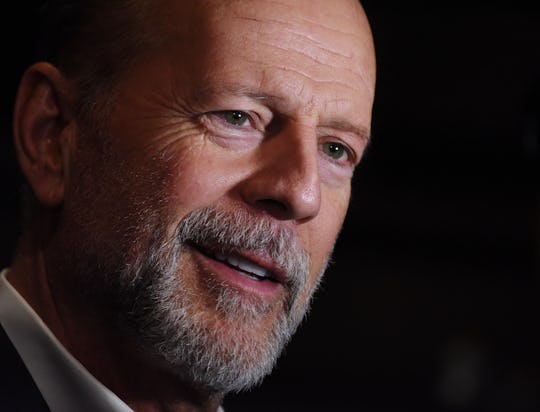 Variety/Penske Media/Getty Images
Demi Moore Shared A Beautiful Video Of Bruce Willis Celebrating His 68th Birthday
The beloved actor was surrounded by his five daughters.
The past year has been a tough one for Bruce Willis. He retired from his acting career in March 2022 when he was diagnosed with aphasia, a condition which affected his cognitive abilities. More recently, Willis' family announced that his condition has progressed and the actor has since been diagnosed with frontotemporal dementia. Fortunately for Willis, he has a big extended family who love him, as evidenced by a video shared by ex-wife Demi Moore in honor of his 68th birthday. Willis was surrounded by his five daughters, Moore, and wife Emma Heming as they all sang "Happy Birthday" to him.
In the video, Willis stood in his kitchen as Heming, with whom he shares 10-year-old Mabel and 8-year-old Evelyn, presented him with a birthday cake carrying two candles. Everyone in the room, including the three daughters he shares with Moore, 34-year-old Rumer, 31-year-old Scout, and 29-year-old Tallulah, could be heard belting out "Happy Birthday." He even joined in himself for a little fun.
"Happy birthday, BW," Moore captioned the video. "So glad we could celebrate you today. Love you and love our family. Thank you to everyone for the love and warm wishes - we all feel them."
Moore was not the only member of the family to share a tribute to Willis on his birthday. His wife, Emma Heming, took to Instagram to admit that she was struggling with feelings of "grief and sadness" on her husband's birthday. "But the silver lining or the flip side is that I'm so lucky to feel your warmth and love that is directed to my husband and our family."
Daughter Rumer, who is expecting her first baby this year, also shared the same video on Instagram with the caption, "Happy Birthday Daddio. I love you to the moon. You are so cool." The expectant mom also took to her Instagram story to share an especially poignant moment with her dad, resting her head on his shoulder and her hand on his chest as they shared a lovely embrace. The grandpa-to-be and the mom-to-be.
Willis' entire family has really rallied around him since his unfortunate diagnosis last year, beginning with their joint statement when he announced he would be retiring from acting. "This is a really challenging time for our family and we are so appreciative of your continued love, compassion and support," the family wrote in a statement co-signed by Moore, Heming, and all five of Willis' daughters at the time. "We are moving through this as a strong family unit, and wanted to bring his fans in because we know how much he means to you, as you do to him. As Bruce always says, 'Live it up' and together we plan to do just that."
One year later, they are still together. And still living it up.