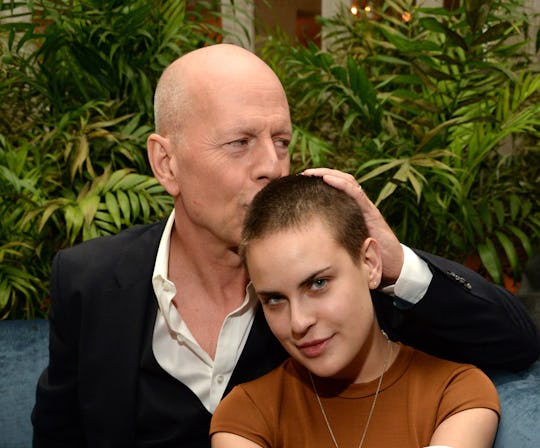 Kevin Mazur/WireImage/Getty Images
Bruce Willis' Daughter Tallulah Opened Up About Dad's Dementia In Heartbreaking Essay
"I know that trials are looming, that this is the beginning of grief."
When Bruce Willis was diagnosed with aphasia in 2022, it hit his family hard. His wife Emma Heming-Willis, his ex-wife and longtime friend Demi Moore, and of course, all five of his daughters. The Die Hard star's entire blended family banded together to be there for him through his initial diagnosis, and did so again after he was diagnosed with frontotemporal dementia, but it hasn't been easy. His 29-year-old daughter Tallulah Willis opened up in an essay for Vogue about how her dad's diagnosis kicked off the "beginning of grief" for her. And how she is learning to find ways to love herself as a way of loving her dad.
Tallulah is the youngest of Bruce Willis and Demi Moore's three daughters, including 34-year-old Rumer and 31-year-old Scout, and this essay marks the first time she has spoken out as an individual rather than as part of her entire family. The actress opened up about her own struggles with mental health as the child of two celebrities, her battle with anorexia, and coming to terms with her dad's diagnosis, which she shares in her essay for Vogue has been an ongoing process for her.
"I know that trials are looming, that this is the beginning of grief, but that whole thing about loving yourself before you can love somebody else — it's real," she wrote.
Tallulah went on to note that even the way she discusses her dad these days has changed. "I keep flipping between the present and the past when I talk about Bruce: he is, he was, he is, he was. That's because I have hopes for my father that I'm so reluctant to let go of."
The entire family, including her stepmom Heming-Willis and the two daughters she shares with Willis, 10-year-old Mabel and 8-year-old Evelyn, continues to rally around her dad. They all got together to celebrate his 68th birthday in March, and in April they celebrated his new role as grandpa when daughter Rumer Willis gave birth to Louetta. Tallulah was with her sister Rumer when she gave birth along with Scout and her mom, an experience that was important for the whole "kooky" family of women. "My sisters and my mom were there when she was born, and I feel so grateful to have been able to have them there for that," Rumer told Romper in May. "Because we're a kooky tribe of women and it was important to me to have them there to welcome the newest little lady to our tribe."
As for Tallulah, she couldn't help thinking of her dad at the time. "There's this little creature changing by the hour," Tallulah wrote of her niece's arrival, "and there's this thing happening with my dad that can shift so quickly and unpredictably."