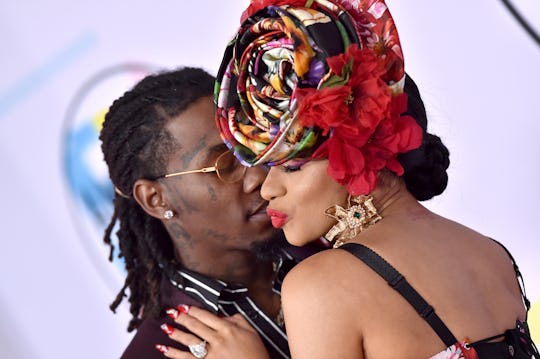 Axelle/Bauer-Griffin/FilmMagic/Getty Images
Cardi B Went ALL Out To Celebrate Her Husband Offset On Father's Day
The Migos rapper was treated to an all-star breakfast for Father's Day.
There's an old adage that says the way to a man's heart is through his stomach. Cardi B definitely delivered on that mantra for her husband Offset this Father's Day. The 29-year-old "Bodak Yellow" rapper celebrated her husband all day, starting with breakfast in bed, with the help of their kids, 4-year-old daughter Kulture and 9-month-old son Wave.
The Migos rapper was treated to pancakes, eggs, bacon, sausage, potatoes, and grits in bed for Father's Day. Cardi B posted the video of her and the kids surprising him on her Instagram Story. "Happy Father's Day," Cardi could be heard happily telling her husband in the clip, who was all smiles as he looked at the spread.
Offset's other kids — Jordan, 12, Kalea, 7, and Kody, 7 — from his previous relationships also joined in on the breakfast surprise for their father. Cardi and Offset have previously spoken openly about their blended family and the close relationship the "Up" rapper has with his other children. "After we got married, that's when I met his kids," she shared in the May/June 2022 issue of Essence magazine, in which the couple posed with all five of his kids for the cover. "I always wanted them to love me, and they really do. They tell me that. I feel it, and I hope we always have a great relationship."
"It's a blessing to be able to have them all together, and to have a wife who's open and treats them as if they're her kids,"Offset added in the same Essence interview. "It could be an issue, but I don't have to go through that, and that's beautiful."
The breakfast marked the beginning of an appreciative family day for Offset. After breakfast, Cardi B and the kids led him downstairs to a massive balloon display that spelled out Happy Father's Day and cards and gifts from his kids. "You treat me like a king," he said in one of the clips Cardi shared on social media.
For the rest of the day, he and the kids enjoyed a day outside by the pool, as Offset documented on his Instagram Story. As for Cardi's personal Father's Day salute to her hubby, she took a less traditional and more Bodak style to recognize her beau and slipped danced to his new single with SleazyWorld Go, "Step 1."
Offset might have been spoiled by his wife on Father's Day, but Cardi B gushes about him as a dad throughout the year as well. Cardi jokingly told Good Morning America in a November 2021 that Offset can sometimes be a little "too hands on" with the parenting duties. "Sometimes he just gets too hands on," she said. "I be like, 'Listen, I got it. I know what I'm doing, too. This ain't my first rodeo anymore."