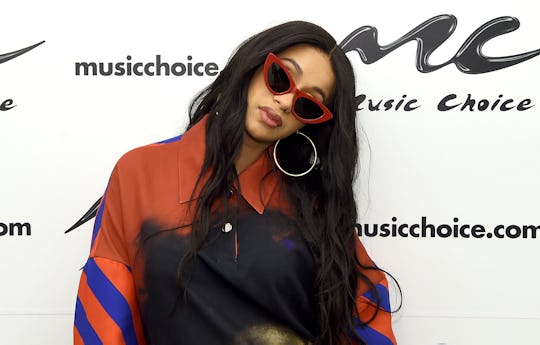 Jamie McCarthy/Getty Images Entertainment/Getty Images
How Cardi B Documented Her Baby Moving & Kicking In Her Belly Will Make Every Mom LOL — VIDEO
When you're pregnant, all sorts of strange and new things happen to your body, some more interesting than others. One of the sheer joys about Cardi B's pregnancy is the way she documents almost every one of these things on social media, not shying away from her Godiva chocolate addiction or the headaches and exhaustion she's experienced. But her most recent post is something too many people just don't share with the world when they're expecting a baby. Which is why Cardi B's video of her baby moving around in her belly is so epic and will make you appreciate her even more than you likely already do.
The rapper, who also made history this week by becoming the first woman to have two Billboard singles in the Hot 100 No. 1 spot, is reportedly expecting her baby later this month. She announced that she and her husband Offset were pregnant while she hosted Saturday Night Live back in April and worked through a lot of her pregnancy, before announcing that she wasn't planning on performing until the baby was born, according to Us Weekly.
Cardi's kept up with making appearances at high profile events, doing radio interviews, recording in the studio, and promoting her music as it's been released, but she's also done a lot of laying around Instagramming, much to all of her fans' delight. The videos she posts consist of a lot of her just gazing at her belly while the fetus moves and kicks. You really couldn't tell that it was moving, though in some of the older videos, but this most recent one is something different.
In the video, you can see Cardi's belly moving all around as she narrates:
This baby today is bugging. This has been going on for hours. I've been trying to take a nap and I can't. Like, I don't know what's going on. It's like she's in the club or something in there. Like, oh my god. For hours... it's like she's mad at me or something.
She added, "I know you wanna come out but god damn don't do me like this. I'm nice to you. I give you everything you wanna eat." If you've been keeping up with her on social media, you know that she's right. That baby-to-be has wanted for nothing over the course of the past nine months, most likely. Cardi B captioned the video, "I think she want to fight."
People on Instagram were loving the video and laughing at how the hip hop star assumed her bun in the oven was dancing in the club or wanted to fight. Others were more sympathetic to her. One fan wrote, "It's scary as hell when they start moving like that and you're a first time mom!" Another person wrote, "She heard y'all are number #1 too. So she in there celebrating." Yet another fan chimed in saying, "Cardi your [sic] going to be such a great mom and probably the best one."
A busy baby-to-be is totally normal, especially this close to a due date, if TMZ reports are correct. According to Livestrong, a fetus moves throughout the pregnancy, but towards the end it starts to run out of room. Just like you would feel a cramp, it starts to stretch and move as much as possible, which is likely what Cardi B is experiencing.
But to be honest, it's much more fun to think that Cardi B's future daughter is dancing to "I Like It" with some fresh new choreography. Given that most of Cardi B's other Instagram posts are of her dancing around her house, celebrating topping the charts or just having fun, it's very likely that her future mini-me has already picked up some sweet moves.