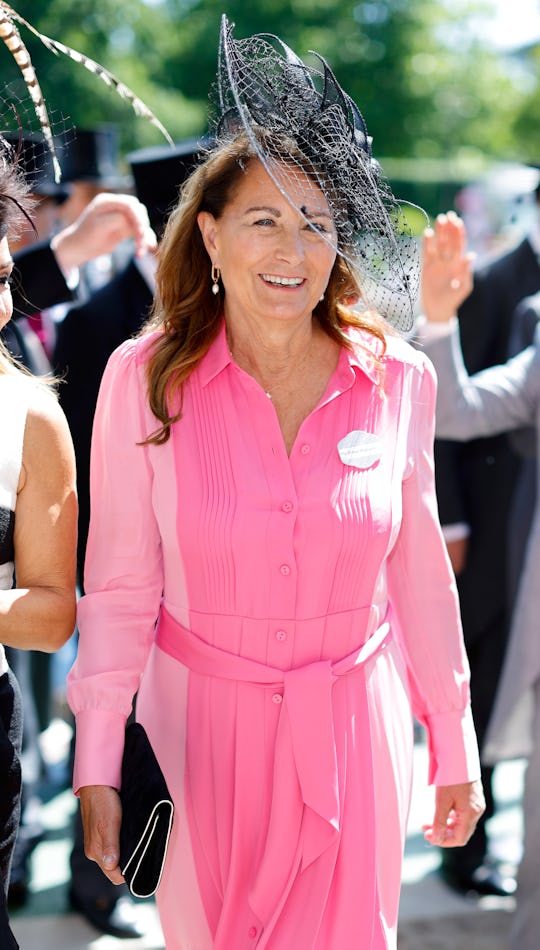 Max Mumby/Indigo/Getty Images Entertainment/Getty Images
Carole Middleton Looked Like Royalty In Daughter Kate's Pink Dress
The Middletons love a hand-me-down dress.
The royal family are known for being a surprisingly thrifty bunch, especially when it comes to wearing hand-me-downs. We've all seen Kate Middleton's three children, 8-year-old Prince George, 7-year-old Princess Charlotte, and 4-year-old Prince Louis, wearing various hand-me-downs from their uncle Prince Harry or their dad Prince William when they were kids. And certainly royal watchers have seen the Duchess of Cambridge re-purpose dresses for different events. But Kate isn't just wearing the same dress herself; she loaned mom Carole Middleton a dress for Royal Ascot. That's next level thriftiness, and also pretty adorable.
Carole Middleton was seen wearing a pink colorblock silk shirt dress by Me+Em at the opening day of the Royal Ascot. The dress looked awfully familiar to fans of the Duchess of Cambridge, perhaps because she herself had worn the exact same one to a different event. Kate wore the same dress to meet 5-year-old Mila Sneddon after making the little girl with leukemia a very special promise. When she found out Mila, who was featured in the duchess' Hold Still photo series campaign, loved the color pink, she promised to wear a pink dress when they met in May 2021. "I have to make sure I go and try to find myself a pink dress," Kate told her at the time. "Hopefully, when one day, hopefully, Mila, we'll get to meet, and then I'll remember to wear my pink dress for you."
And so she did. And now so did her mom.
WPA Pool/Getty Images Entertainment/Getty Images
Max Mumby/Indigo/Getty Images Entertainment/Getty Images
Carole, who is a grandmother to five (soon to be six when Pippa Middleton welcomes her third child) is no stranger to the hand-me-down game herself. When the Party Pieces owner's son James Middleton got married last September to Alizée Thevenet, Carole passed her actual wedding dress on to her new daughter-in-law for the big day. "While talking about dresses with Carole and sharing ideas during lockdown for inspiration, I tried on her wedding dress and fell in love with it," Thevenet told Hello! at the time. "It fitted me perfectly and was exactly what I wanted. It always troubled me that wedding dresses are only worn once, so it was amazing to give such a beautiful dress a second lease of life."
I think we've all learned the secret to owning country estates in the Berkshires and spending holidays in Mustique. Just pass those dresses around and you'll be living that Middleton lifestyle.