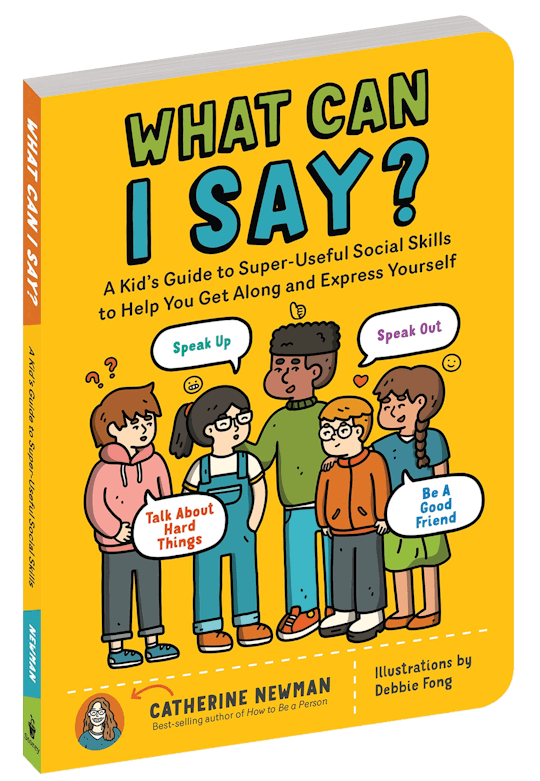 Workman Publishing
This Book Shows Kids How to Navigate Social Situations With Humor & Grace
"What Can I Say" is all about empowering kids to be good humans who can express themselves.
If you aren't familiar with best-selling author Catherine Newman, she's basically the best mom friend you always wished you had: straight-talking, hilarious, compassionate, wise... she tells it like it is in the most entertaining way possible. Her hit middle grade book How to Be a Person taught kids just that: tips and life skills it usually takes years of trial and error to learn. Now, in the same fun, colorful graphic novel style, comes her next title: What Can I Say?
A helpful guide that not only aims to help kids out of awkward situations when they don't know what to say, this book focuses on teaching kids the basics of successful communication with friends and how to build meaningful relationships. Every page includes easy-to-follow scripts for what to do in certain scenarios, including how to be inclusive, listen, give advice, have arguments, and ask for help (plus tricky-to-navigate stuff like how to turn down a date, deal with offensive comments, and respond to bullying). The best part is that What Can I Say? does it all with a voice that's completely free of judgment and super encouraging — she knows your kid has what it takes to be a decent, functioning member of society, and she's going to show them how.
It's not easy knowing what to say in life, even for adults. Thanks to Catherine Newman's advice and Debbie Fong's bright, endearing illustrations, the next generation will have the social skills you always dreamed of having as a kid. Below, three short excerpts from What Can I Say that will come in handy for any kid (and many adults!).
From Chapter 4, "How To Deal With Hard Things"
This chapter deftly deals with everything from "How to Be Embarrassed" (a tricky one!) to "How To Say No."
Another tough situation: What to do when gossip swirls. Newman knows how to shut it down. The key? Positive gossip, a brilliant alternative to the mean kind.
From Chapter 6, "How To Be Supportive"
Chapter 6 includes topics like "Show Your Appreciation" and "Express Empathy." Below is "How To Be Inclusive."
Say your kid finds themself in a situation when they see someone is being left out. What can they say?
How To Stick Up For Someone
And what if your kid sees someone being picked on? They can choose to be a hero. In this secton, also part of Chapter 6, Newman gives kids more than one choice of how to communicate, since different people sometimes require different tactics.
Don't you wish you'd had this when you were a tween? Although honestly, it's never too late. Your kid will definitely lend you their copy of this awesome book!
Excerpted from What Can I Say? © by Catherine Newman, illustrations © by Debbie Fong, used with permission from Storey Publishing.