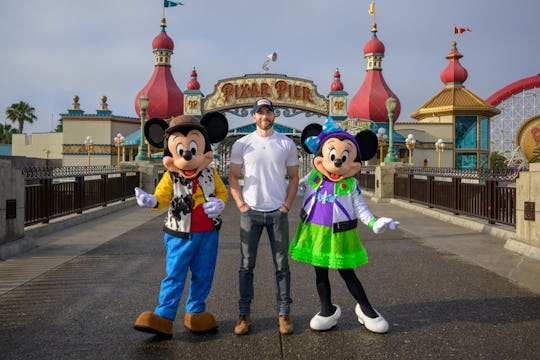 Handout/Getty Images Entertainment/Getty Images
Chris Evans Set The Record Straight About Those Photos From His Disneyland Visit
Although it's unlikely anyone is actually complaining about any Chris Evans pictures!
Imagine Chris Evans in all his humble-adorableness sitting at home scrolling through recent photos he took at Disneyland, when he suddenly realizes that something about the pictures looked super off and oddly similar. In the age of celebs with their Photoshop fails, Evans took to social media to make sure we knew the crucial truth. No, he did not Photoshop his awkward photos. And there's a perfectly relatable and funny reason why the pictures look the same.
In a recent Twitter post just one day shy of his 41st birthday, Evans re-tweeted Pixar's side-by-images at Disneyland promoting his role in the upcoming movie Lightyear. In one photo, Evans stood out in front of a bunch of beloved Toy Story characters, and in another, he is flanked by world famous mouses, Mickey and Minnie. But what both photos shared eerily in common was the way Evans posed in identical stances with his hands dug into his jeans pockets. The images look so similar, in fact, it would be easy to think they were altered. But leave it to Captain America to rescue us from those false assumptions and ensure everyone that such photo manipulation is not the case.
"I promise I'm not photoshopped into these! I just have a very disciplined pose. (And I don't know what to do with my hands)," Evans tweeted.
With over 300,000 likes and counting, the internet is loving Evans' cleverness. Of course, this isn't the first time the Knives Out star showed his social media savvy personality. When singer Lizzo joked about having his baby and even addressed those pregnancy rumors on SNL, Evans came back with the perfect response: "Hi! Just heard about our little bundle of joy; my mother will be so happy, lol. (Just promise me no gender reveal parties lol)."
He also had some choice words for Piers Morgan, who came after men for babywearing. "You really have to be so uncertain of your own masculinity to concern yourself with how another man carries his child. Any man who wastes time quantifying masculinity is terrified on the inside," Evans clapped back on Twitter and put the Brit in his place.
So the lesson here is that Chris Evans is an exemplary user of social media. He knows how to be cute and engage in a Twitter flirtation, while simultaneously taking down toxic masculinity. And the actor is even willing to troll himself should the occasion present himself, like taking weird pictures at the happiest place on earth or accidentally sharing nudes of yourself online.
Now that this terribly important photographic controversy has been addressed by the actor himself, let's get back to our regularly scheduled Instagram programming of Chris Evans and some puppies: