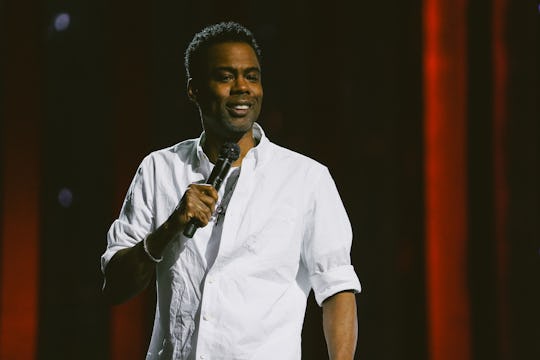 Kirill Bichutsky/Netflix © 2023
Chris Rock Explains Why He Asked For His Daughter To Be Kicked Out Of High School
"It worked. The whole thing humbled Lola."
As parents, we all want our kids to do the right thing and be the best version of themselves. But the question is, how far will any of us go to ensure our kids do just that and learn from their mistakes? For Chris Rock, the father of two made a bold move after his daughter found herself in some hot water on an international school trip.
In his Netflix comedy special Selective Outrage, Rock opened up about an experience he had with his daughter Lola, who is now 20 years old, when she was a senior in high school on a class trip to Portugal. "One day Lola and four of her little white girlfriends decided they're bored and they're gonna leave the class, they're gonna sneak away, go to a bar and get drunk," he explained. "And they tried to sneak back in. But of course, they got busted."
"Now these crazy, rich white schools, they don't play that sh*t," he went on. "You get busted sneaking out, drinking, they're like 'you are kicked out!'"
In the aftermath of the event, Rock said that parents hired lawyers to deal with the situation. "These crazy white schools got rich a** white parents and rich a** white parents do not let their kids get kicked out of school," Rock said of the incident. "So all the parents, they all got lawyers, even the ones that were lawyers got lawyers." But Rock didn't want to get a lawyer at first and was angry with Lola, who he shares with ex-wife Malaak Compton-Rock along with 18-year-old daughter Zahra. As more time passed, he felt that Lola wasn't taking the problem seriously, so he decided to speak to the dean of her school himself.
"I need a favor. I need you to kick my daughter out of this school. I need you to kick her Black a** out of this school," Rock recalled telling the dean, adding, "I need my Black child to learn her lesson right now before she ends up on OnlyFans and some sh*t. Please kick my child out of f*cking school." They agreed, along with the rest of the girls involved, though Lola never knew it was her dad who was behind the decision until the Netflix special premiered.
"Here's the beautiful thing that happened, it worked. The whole thing humbled Lola," Rock added. "... And now, three years later, my daughter Lola is one of the coolest people I have ever met. She is so amazing."
While Rock didn't say how his daughter felt about the whole situation, she is now attending culinary college in Paris. Plus, Lola and her dad got matching tattoos together just last year, as he told Kelly Ripa and Ryan Seacrest on Live! with Kelly & Ryan. So it seems likely that she got over it. Although whether or not she and her sister will love the fact that their dad also said during his Netflix special that he sometimes doesn't like his kids because they're "rich and spoiled" remains up for debate.
Such is the life of the child of a comedian, perhaps. Your life is grist for that mill.