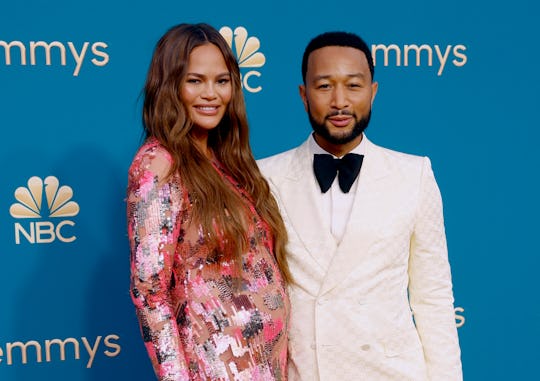 Trae Patton/NBC/NBCUniversal/Getty Images
Chrissy Teigen Shares First Photo Of Esti & Now We All Have Baby Fever
Mom jokes she looks "like a baby."
Chrissy Teigen's newest addition is just an absolute cutie. We know this now for sure since the mom of three shared the first photo of her baby girl's sweet little face. Little Esti is clearly bringing joy to the entire family, and now she's bringing joy to us as well.
The Cravings cookbook author welcomed her baby, daughter Esti Maxine Stephens, on Jan. 17, making 7-year-old daughter Luna and 4-year-old son Miles a big sister and big brother and husband John Legend a dad of three. "She's here! Esti Maxine Stephens - the house is bustling and our family could not be happier," Teigen wrote in a sweet announcement about her daughter's birth on Instagram several days after her arrival. "Daddy sheds nightly tears of joy seeing Luna and Miles so full of love, and I am learning you still need diapers with a c-section!? We are in bliss. Thank you for all the love and well wishes - we feel it all!"
Now the proud mom has decided to share an up close and personal photo of Esti's little face, and we can certainly understand why the whole family are so in love with her. Teigen captioned the sweet photo, "look at u out here lookin like a baby," and she's right. She does look like a baby.
Teigen's followers couldn't get over Esti's little sleeping face. "Soooo beautiful just like her mama" wrote Kris Jenner, while expectant mom Kaley Cuoco added, "Oh em gee what a beaut!!!!!!"
For her part, Teigen admitted to Romper in November that she was really feeling "stronger" as a mom ahead of giving birth to her daughter. "With this baby I just feel like a lot stronger mentally," she says. "I just feel like I'm going to be able to stand up for what I want and what I know is going to be best for them. To me, being a mom feels like the only thing I've done right. I've made a lot of mistakes in life, and I'm usually not very bold about saying, 'I'm proud of doing this' or 'winning that.' But I can say that about being a mom. I'm really proud about the way of the way we raised our kids."
Teigen had a few rough years before welcoming Esti. She suffered a pregnancy loss with son Jack in 2020, an event that saw her working towards getting sober before starting IVF treatments again.
Now Esti has arrived, safe and sound. Truly a little rainbow baby.