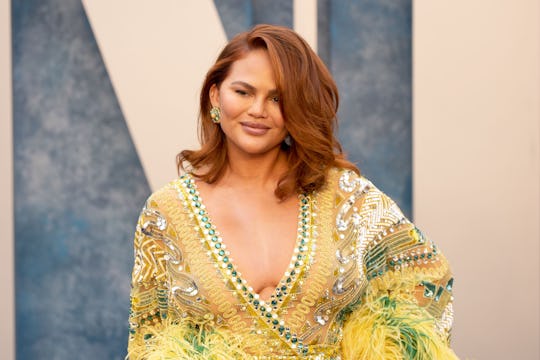 Robert Smith/Patrick McMullan/Getty Images
Chrissy Teigen Says Luna & Miles Call Her C-Section Scar "The Baby Hole"
Baby Esti was born via C-section in January.
Chrissy Teigen took multi-tasking to a new level when she gave birth to her daughter Esti Maxine earlier this year. While she was delivering her and John Legend's new baby via C-section, she was also snapping a few photos to document the incredible moment.
In a new interview with People, Teigen said she was "kind of excited" to have a C-section with Esti since she hadn't done it before. "I was kind of excited because I'm like, 'Yeah, I've done the vaginal thing twice. Let's try this," said Teigen, who also shares 6-year-old daughter Luna and 4-year-old son Miles with Legend. "I really love surgery ... I like that I've seen both experiences."
The Cravings cookbook author did say that the C-section incision is "a lot," but was still fascinated by the whole experience. "The incision is a lot and you never know how your stomach's going to come together," Teigen told People. "I think your organs are on the table for a second, but that to me is so cool. I was taking pictures above the seat. I have the craziest pictures of the cord and everything."
"It really is so crazy ... I'm like, 'Oh, my God. I was laying there wide awake with my body cut open and a baby comes out,'" she continued in the same interview. "Now Miles and Luna love looking at my scar and they call it the baby hole."
Teigen reflected on her C-section back in January when she announced Esti's birth on Instagram, specifically what surprised her about the healing process. "She's here! Esti Maxine Stephens — the house is bustling and our family could not be happier," she wrote. "Daddy sheds nightly tears of joy seeing Luna and Miles so full of love, and I am learning you still need diapers with a c section!? We are in bliss."
Bleeding while recovering from a C-section can last between two to six weeks postpartum and, as Teigen mentioned, diaper-like underwear are especially helpful with healing. "People who have given birth by cesarean want to give additional thought to the postpartum underwear they choose, since their scar needs extra protection from chafing and rubbing while it heals," postpartum doula Jada Shapiro previously told Romper. "High-waisted underwear will be more comfortable for most people since they won't irritate the scar."
Between her C-section, nodding off while breastfeeding, and loving on her postpartum stretch marks, Teigen continues to share a refreshingly unfiltered look at motherhood. And now we've all learned an incredible new C-section scar nickname. Thanks, Luna and Miles.