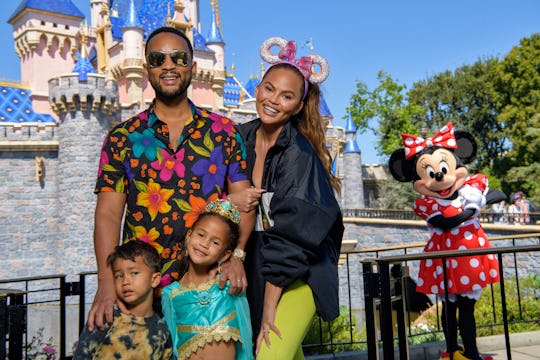 Handout/Getty Images Entertainment/Getty Images
Chrissy Teigen's Son Miles Proudly Bragged About Knocking His Sister Luna's Tooth Out
"Hey Mom! I got Luna's tooth out!"
For most of his four years on the planet, Chrissy Teigen has described her son as something of a gentle little soul. A peacekeeper, if you will, a happy, easygoing little guy who she once said is "just like" her husband John Legend. So it came as something of a surprise when Teigen shared a video of her sweet little 4-year-old boy proudly bragging that he knocked his 6-year-old sister Luna's tooth out while they were playing. Very off brand for Miles, one would think. Except perhaps not as off brand as it might have first appeared.
On Tuesday, the Cravings cookbook author shared a video on Instagram featuring cameos from both her children coming in after playing in the pool. Miles entered the room first, happily calling out, "Hey Mom! I got Luna's tooth out. I knocked her mouth, and it just came out." Teigen laughed, saying, "You did? You hit her mouth and it came out?"
Luna came in, wearing her towel and goggles from the pool to show off her newly gummy smile and explained, "He accidentally did it."
The reaction everyone gave points to the possibility that Miles may have knocked out a tooth that was already loose, so I think we can all relax and not assume he has turned into a violent monster. Besides, Luna does appear to be going through a phase of losing her teeth. On June 4, Teigen shared a selfie with Luna and her missing tooth with the caption "Tooth fairy time," so the little girl probably isn't terribly stressed about the process.
Miles has become something of a wild child in recent months, which could give us another clue as to how that tooth came to be knocked out of his sister's mouth. Not in a violent way, but simply because he is, much like so many second children, rather rambunctious. Teigen shared a video of Miles climbing all over the couch and trying to grab onto a ceiling light as his sister say writing in a workbook, ignoring him.
It stands to reason that playing in a pool with such a child and having a wiggly tooth is going to end with a visit from the Tooth Fairy. Which Luna didn't seem to mind at all.