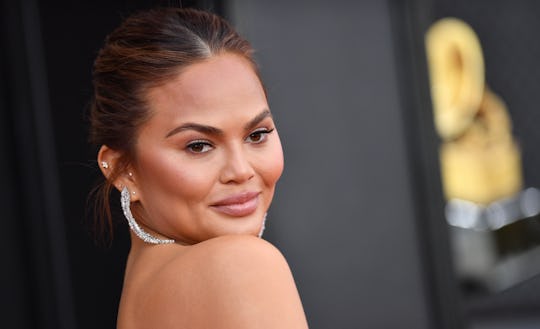 ANGELA WEISS/AFP/Getty Images
Chrissy Teigen Nodding Off While Breastfeeding As Miles Chats Away Is Too Relatable
Looks like the mom of three is officially getting a taste of middle child syndrome.
Chrissy Teigen is getting a crash course in what it looks like to be a mom of three these days. In a recent video she shared on her Instagram story, the Cravings cookbook author essentially summed up life as a breastfeeding mom with little kids running around. Or in this case, incessantly counting in your ear while you try to stay awake.
Teigen and her husband, John Legend, welcomed their baby girl Esti Maxine Stephens earlier in January, making 6-year-old Luna and 4-year-old Miles a big sister and brother. Esti's arrival also means that Miles has gone from being the baby of the family to being a middle child. Now far be it from me to typecast middle children, but a recent video Teigen shared on her Instagram story has me thinking that Miles is already embracing his new role.
In the video, Teigen is breastfeeding Esti while Miles counts beside her. As he continues to count his way up past 170, which is in itself an impressive feat for a 4-year-old child, her eyes droop. She looks exhausted. Her baby continues to feed. And her middle child Miles continues to count, completely unconcerned by his mother's clear exhaustion.
Introducing baby Esti into their family has obviously changed some dynamics, as happens in all families when a new baby arrives, and from the sounds of it, things are generally going pretty well. Teigen wrote that "the house is bustling and our family could not be happier," when Esti first arrived, adding that her husband "sheds nightly tears of joy seeing Luna and Miles so full of love, and I am learning you still need diapers with a c section!? We are in bliss. Thank you for all the love and well wishes - we feel it all! X."
In the weeks since Esti's birth, Miles certainly does seem to be bonding with his little sister. He was walking her around the house in her stroller and holding her tenderly in some of his mom's posts on social media.
But when he wants to show off his counting, he's going to make it happen. Whether his mom is falling asleep while breastfeeding his baby sister or not.