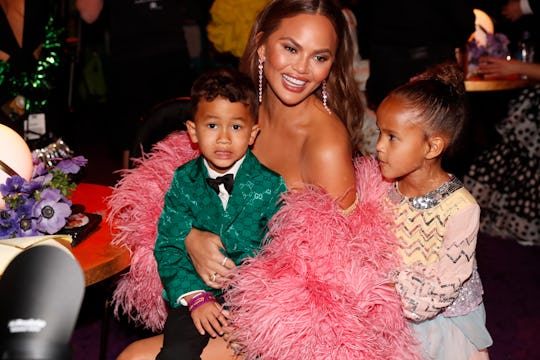 Johnny Nunez/Getty Images Entertainment/Getty Images
Chrissy Teigen's 6-Year-Old Daughter Luna Is Taking Her Big Sister Role Very Seriously
Luna has it all under control.
Chrissy Teigen is fast discovering one of the hidden benefits of having three kids — sometimes the oldest wants to give a hand with the little ones. The Cravings cookbook author recently shared a photo of her 6-year-old daughter Luna after she asked her to "take care of the house," and boy did she ever take her mother's words to heart. Not just with baby Esti but also with her 4-year-old brother Miles.
Teigen, who welcomed daughter Esti Maxine Stephens with husband John Legend in January, shared an update about her growing family on Wednesday. It seems her daughter Luna is taking her role as the oldest child very seriously. Teigen wrote on Instagram that she "told Luna to take care of the house while I was gone and she really did" with a crying emoji attached. She shared a carousel of photos featuring Luna doing just that, taking care of the house
The first photo shows Luna standing proudly with sister Esti in her arms, looking like an absolute pro which is impressive as Esti is just 2 months old.
It isn't just Esti who is getting a dose of Luna's tender loving care. Little brother Miles was seen out for a walk in the rain with his older sister before the two seemed to be making cupcakes together. Miles grinning at the camera while Luna looked at her recipe, keeping her eye on the prize.
All of Luna's hard work and diligence must have paid off, because the last photo sees her holding up a tray of cupcakes. Looking proud and mature and perhaps a smidge tired. Because baking cupcakes while taking care of two kids is a lot.
The addition of Esti to the family has made for some beautiful change to the household dynamics, apparently. When she first arrived, Teigen wrote on Instagram that "Daddy sheds nightly tears of joy seeing Luna and Miles so full of love, and I am learning you still need diapers with a c section!? We are in bliss. Thank you for all the love and well wishes - we feel it all!"
It looks like Luna is still feeling it all, and Miles and Esti (and her mom) are lapping up that attention.