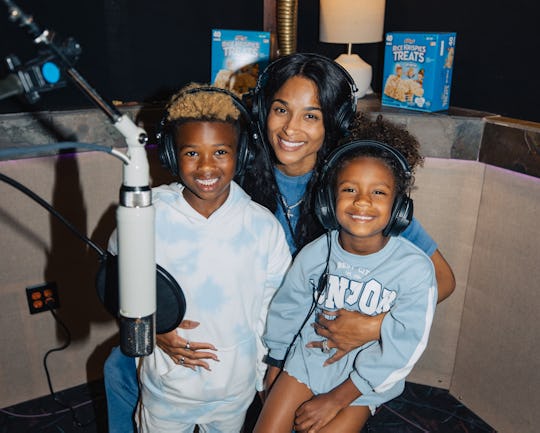 Courtesy of Kellogg's
Ciara's Kids Make The Sweetest Cameo In Her New Song "Treat"
"Their little voices are so cute."
Summertime just got a little bit sweeter, thanks to a new family-inspired bop from Ciara. The Grammy Award winning singer got her kids, Future and Sienna, involved in one of her latest projects and made her new song "Treat" a family affair. The best part? "Their little voices are so cute," Ciara tells Romper.
Ciara's new song "Treat" features cameos from her son, 8-year-old Future Zahir, and daughter, 5-year-old Sienna. (She also has a new single called "J.U.M.P." that will be released soon.) The mom of three, who recently partnered with Kellog's Rice Krispies Treats to release the song, says the highlight of the song is the tiny voices you hear in the background.
"It was fun to include my babies," says Ciara. "Their little voices are so cute and they're so proud."
Inspired by the heartfelt, sweet traditions shared by families like hers, Future and Sienna join their mom to sing lyrics that are light, fun, and catchy in "Treat." Like"You're my favorite treat, treat, treat, treat/ How'd you get so sweet, sweet, sweet" towards the end of the song.
While jamming out to "Treat," which is now streaming on Spotify and YouTube, there is also an opportunity to be a part of it on TikTok. All you have to do is use the "Treat" audio and hashtag #OurTreatEntry. Winners will be featured in a music video and get a year's supply of Rice Krispies Treats.
"The beautiful thing is that the world can join us," says Ciara, who shared her own TikTok video of herself and her kids dancing to the song, as well as a few behind-the-scenes clips from their recording session. "Families can join us."
"I think being with family can never get old, writing about love and good times can never get old, and you can never have too much of it," she says. "So this is going to be a fun campaign for everyone to interact with, and to have good times with their families."
It's no surprise Ciara involved her kids in her new song. The "Level Up" singer shares Sienna and 1-year-old son Win with husband, Russell Wilson, and Future with her ex, rapper Future, and has featured her children in her music before. In fact, several times. Ciara's son Win was even featured in the music video for her song "Rooted" — when the singer was nine months pregnant. She also included footage of her giving birth in her "Beauty Marks" music video and she's previously said her kids can predict which of her songs will be a hit.
So when Ciara says, "I'm all about family," she means it. "I love my babies. I love my time with my babies. It's the most precious time you could spend."