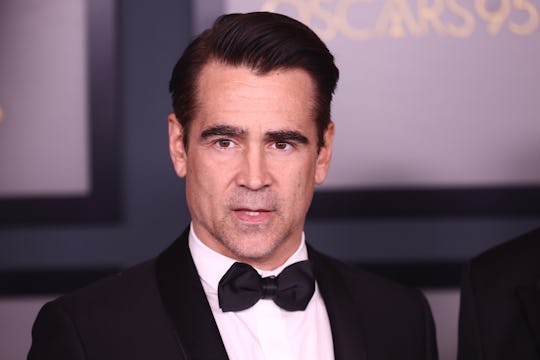 Emma McIntyre/WireImage/Getty Images
Colin Farrell Once Said This Is "The Most Important Thing" About Raising Kids
The Oscar-nominated actor is a proud father of two of sons.
Colin Farrell holds another coveted title beyond being an award-winning actor, who won a Golden Globe for his outstanding performance in Martin McDonagh's dark Irish comedy The Banshees of Inisherin, a role that also just earned Farrell his very first Oscar nomination. The acclaimed Irish actor is also a devoted and proud father. Twice over, in fact. Here's what else you need to know about Farrell's family and what he's shared about his favorite gig, dad.
The one parenting rule he was "sure" about.
When Farrell first found out he was going to become a dad in early 2003 with then-girlfriend Kim Bordenave, he admitted in an interview with Entertainment Tonight at the time that he really didn't know much about parenting. But he knew how he wanted to go about it. "The world's always been a strange place," Farrell said at the time, per People. "Look at every decade. There's always been war, there's always been death, there's always been sickness. I don't know a f—ing thing about having a child, but all you've got to do — the most important thing — is bring that child up in as safe and loving an environment as you can. That's the only thing I'm sure about."
His son James arrived in 2003.
Bordenave and Farrell welcomed son James Padraig in September 2003. While Farrell missed his son's birth due to filming the movie Alexander, he asked family members to step in to be a support to both mom and baby, per The Irish Times.
Becoming a dad helped him get sober.
Farrell had a well-earned reputation as a big party guy when James was a baby, but watching his son grow gave him the push he needed to get sober. "I had this little baby who didn't need a best friend — who needed a dad," Farrell explained in a 2009 Lorraine interview. "So, that was a big turning point. He was about 2 when I got sober."
His son James was diagnosed with Angelman syndrome.
When James was a little boy, he was diagnosed with an incredibly rare genetic disorder called Angelman syndrome (AS), a condition that is often misdiagnosed as cerebral palsy or autism. While his parents might not be together, they present a united front in ensuring their son has the best care possible. The couple applied to be co-conservators for their son in 2021 when he turned 18, according to Page Six, noting in a petition that James, now 19, is "nonverbal and has issues with his fine motor skills, making him unable to properly care for his own physical health and well-being and requiring him to need assistance in preparing food, eating, bathing and clothing himself."
His son Henry Tadeusz was born in 2009.
Farrell and his then-girlfriend, Ondine co-star Alicja Bachleda-Curú, welcomed son Henry Tadeusz in 2009. While the couple went their separate ways in 2010, they continued to co-parent Henry, who is now 12 years old.
Henry is not a fan of his dad's short shorts.
When Farrell was seen out running in West Hollywood with no shirt and short shorts earlier this year, his son Henry had some strong feelings about the look. "I didn't know they're in now," Farrell told Ellen DeGeneres when she said the look was stylish. "My youngest son would disagree vehemently with you. Because he's mortified. He says, 'Please Dad, do not wear the short shorts.' And I tell him, 'They feel good.' It's not a fashion thing."
He and big brother James are also apparently tired of him always playing "the bad guy." Maybe they need to watch The Banshees of Inisherin, a totally different role for their dad. Although probably they prefer knowing him as just that. Dad.
This article was originally published on