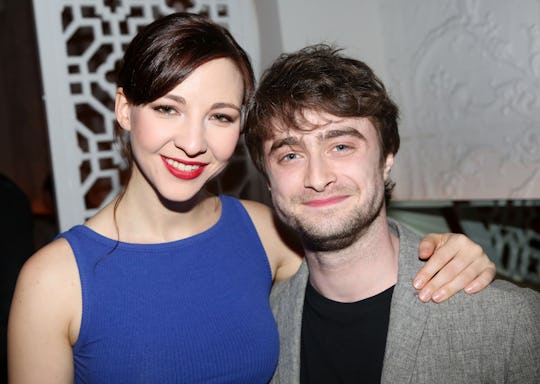 Bruce Glikas/FilmMagic/Getty Images
Daniel Radcliffe & His Longtime Girlfriend Erin Darke Are Expecting Their First Baby
Will their baby be a Muggle or a Wizard?
Harry Potter is officially going to be a dad! Daniel Radcliffe and his girlfriend of nearly 10 years, Erin Darke, confirmed the magical news that they are expecting their first baby together.
Over the weekend, a rep for Radcliffe confirmed to Entertainment Weekly that the two actors are expecting their first child. They did not share details about the baby's due date or sex at this point, but Darke was seen out walking with Radcliffe sporting a baby bump in photos, so it could be fairly imminent.
Radcliffe and Darke first met when they played love interests in the 2013 film Kill Your Darlings, and the expectant dad told People last March that they were "really happy" together after all this time. "I've got a really nice life," the 32-year-old actor told the magazine. "I've been with my girlfriend for a decade pretty much. We're really happy." He also noted at the time that he and Darke hoped to collaborate professionally in the near future, and maybe that was really just him hinting that they wanted to have a baby because here we are.
Certainly Radcliffe has been thinking about becoming a dad for some time. Back in 2013, coincidentally around the time he first started dating Darke, he told Time Out magazine that he "definitely" wanted to have kids. "I've grown up around lots of people who were having kids when I knew them, because a lot of them were a lot older than me. And I saw the wonderful change in them," he told the outlet at the time. "I see that it gives you a sense of purpose that up till now I only really get from work. I want that."
As far as timing, Radcliffe intimated that the sooner the better worked for him. "I like the idea of being a youngish parent. So I've got energy to play football even though they'll be better than me by the time they're four."
Anyone hoping to get lots of glimpses at Radcliffe's baby are probably going to be out of luck, as he told BBC 4's Desert Island Discs last November that the one thing he doesn't want for his child is fame even if he hopes to bring his little one to film set locations. "Film sets are wonderful places," he explained at the time. "I think a lot of the time it can be wonderful for kids. But it's really the fame side of it that should be avoided at all costs."
A life of privacy visiting film sets and playing football with Harry Potter. Sounds kind of great.