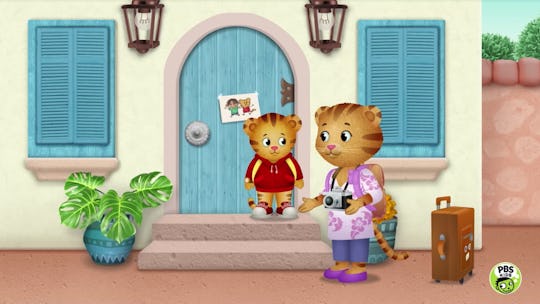 Take A Sneak Peek At Brand New Daniel Tiger's Neighborhood Movie
The all-new movie, Daniel Visits A New Neighborhood, will premiere on June 20.
Daniel Tiger loves his neighborhood. Who wouldn't? Animals and humans live in harmony! The royal family rubs elbows with the commoners! Everyone sings and dances on cue! And as for public transit, you just can't beat a seemingly sentient Trolley (ding ding!). But even when you live in a magical, idyllic place like the Neighborhood of Make-Believe, sometimes a change of scenery is nice. On June 20, Daniel Tiger and his mom will take a trip in a new, one-hour movie Daniel Visits A New Neighborhood and Romper has an exclusive sneak peek ahead of its premiere.
The brand movie will stream for free and premiere on PBS Kids stations nationwide on Monday, June 20 (check your local listings for times) and will highlight helpful strategies for traveling and generally being away from home with (or as) little kids. Just in time for that summer vacation you've been excited and nervous about!
Mom Tiger is good friends with Valentina. Daniel is even pen pals with her son, Juan Carlos. The only problem is that they live in another neighborhood. So Daniel and Mom decide to go on a trip to visit them in Daniel's first trip outside of the neighborhood ever. And while new adventures — taking a train ride, seeing new places, and meeting new people — can be exciting, it can also be overwhelming! But Juan Carlos is there to show Daniel what makes his neighborhood so special, teaching Daniel a few handy Spanish phrases in the process.
In Romper's exclusive clip, we see Daniel and his mother finding their way to the home of Mom's friend, Valentina, her partner, Felipe, and their son, Juan Carlos. (The picture of Daniel and Juan Carlos on the door is a pretty good hint as well as a warm welcome.) The scene highlights that even when you're excited about new adventures, they can still leave you feeling a little bit shy.
Daniel Tiger finally meets his pen pal Juan Carlos.
Daniel Visits A New Neighborhood premieres on PBS Kids on June 20 and will stream online for free. Check your local listings for more information.