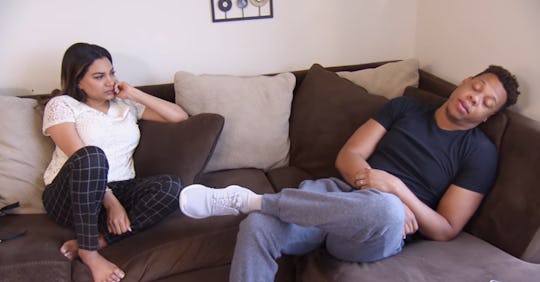 Lifetime/YouTube
Mia & Tristan Will Make A Decision About Their Future On 'Married At First Sight'
Mia and Tristan have had a roller coaster marriage thus far, but now they seem to be on solid ground. In the preview for the next episode, Mia and Tristan are seen meeting with Mia's dad, Indar, and sister, Deidre, and Mia and Tristan have big news about where they will be living. So did Mia and Tristan move to Houston after Married at First Sight, or did Mia's family talk them out of it?
In a sneak peek clip of the next episode, Mia and Tristan sat down for what was supposed to be a "light lunch" with Indar and Deidre, but it took a turn when Mia mentioned the possibility of moving to Houston. Mia's bomb drop infuriated Tristan, which he admitted in his confessional.
"I'm very frustrated because we had talked about having a light lunch," he said. "A light lunch to me is like her dad wanted to talk about basketball. Her sister just wanted to check in to see if she was happy. I don't think Mia should have brought up a potential move to Houston. I didn't want her to share that too soon."
Diedre immediately had questions about the move, mainly why would they move to Houston instead of staying in Dallas. Tristan attempted to explain that for him it was merely for professional reasons. "I own multiple tutoring club franchises so I have two in Houston and one here in Dallas but Houston is where it's really big," he explained. Deidre, however, wasn't having it. "Did you think about this before you got married?" she asked.
Tristan said that he had thought about that prior to the marriage and that he was giving Mia the choice to decide what she wanted to do. "I gave Mia the options where we can either go down there together," he said. "I'll still have the Dallas one, so she can stay keep her condo and I'll get a one bedroom down there. We can kinda just go back and forth."
This solution was still unacceptable to Deidre who called it "bulls*it." "You just got married. Why would you want to separate yourselves? I don't understand that if you want it to work," she said. "It's not an option. It shouldn't be an option."
Tristan again reiterated that he was leaving it up to Mia to decide, but Deidre felt that he was really just giving Mia an ultimatum. Mia eventually put an end to the conversation, surprised that her family did not take the news of her potential move as well as she would have hoped. Whether she was already on the fence about moving or if her family made her start to question the decision, Mia said that she was not sure how she felt about the prospect of moving just yet.
Because Mia's Instagram account is private and Tristan has a very common name, it is hard to try and see if they have posted about where they are living now. Mia's Instagram bio says she is a "Texan country girl," but both Houston and Dallas are in Texas so that does not give fans any real clues. It seems the only way to actually learn where the newlyweds end up deciding to live is by watching the new episode and seeing how the rest of the season plays out.
Although Mia and Tristan had a rocky start, it looks like they are working together better now. Unlike their fights in the past that had to do with trust, the decision about where they will live is one that many couples have to make, and hopefully this is something that will bring them closer together rather than further apart.