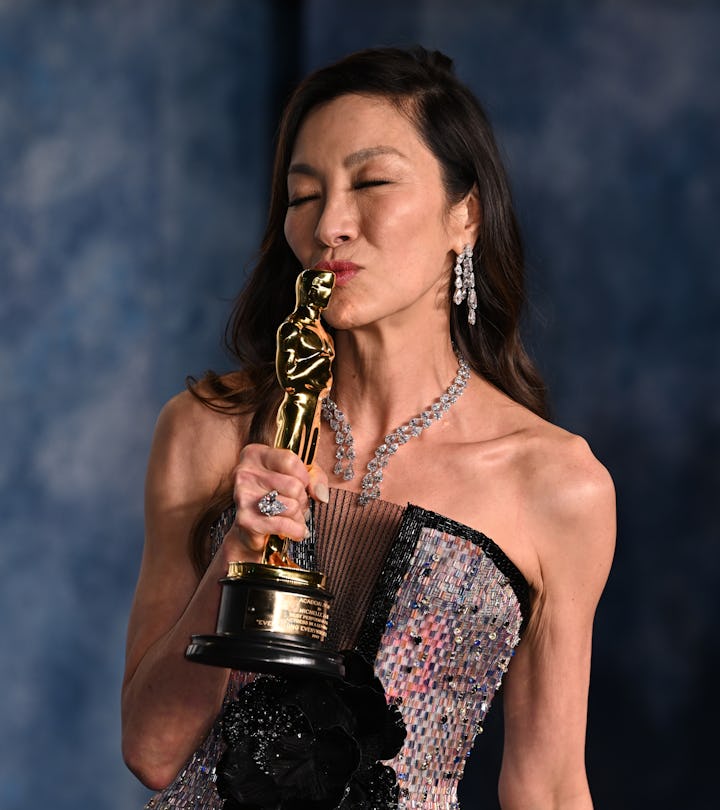 Doug Peters - PA Images/PA Images/Getty Images
Michelle Yeoh Dedicated Her Oscar Win To "All The Moms In The World"
"They are really the superheroes, and without them none of us would be here tonight."
Michelle Yeoh made history as the first Asian woman to win in her category as she took home her very first Oscar this year for her role as Evelyn Quan Yang, a wife and mother who finds herself exploring the multiverse to save her family in Everything Everywhere All at Once. In her acceptance speech, the iconic star offered a shout-out to moms everywhere. But does the actress have children herself? There was a time in her life when she walked away from her career to become a mother. And today, she's a proud stepmother and grandma. Here's what else you need to know about the actress' family.
Michelle Yeoh left acting behind when she was 28 years old to start a family.
Back in 1988, Yeoh was an action star on the rise when she decided to change directions in her life. "I got married to a wonderful man called Dickson Poon," she told Bustle in 2022. "At 28 years old, I decided maybe it was time to settle down, get married, and have a new life." That life would include children, she hoped at the time, and felt that she wasn't up to all the "multitasking" that came with her career and motherhood. "I looked in awe at some of the actresses who were able to juggle being a mother, take the kids to school, and act or produce. It blew my mind. I felt if I continued acting, I'd be constantly away from home. I couldn't understand how I could have a full [career while] being married," she said in the same interview. "I really, really wanted to start a family."
So much so that she told You magazine in 2018 she "tried IVF, everything. I was desperate. I love kids and saw myself surrounded by them but there's only so much you can put your body and mind through."
Yeoh ultimately discovered that she could not have children and she made the decision to leave her marriage to Poon in 1991. "If I'm being honest with myself, I didn't want for us to be bitter 10 years down the road," Yeoh told Bustle. "Because in Asian families, people want to have sons and daughters [because] they are an extension and a legacy. And when you have the realization [that you can't have kids], you have to deal with it. You deal with the curveballs that are thrown at you."
While the pair divorced, she told You magazine that the two have remained friends.
She thanked mothers in her Oscar acceptance speech.
When Yeoh won her Best Actress Oscar for her performance in Everything Everywhere All at Once, she thanked her own mother for her support before giving a shout out to moms all over the world.
"I have to dedicate this to my mom, all the moms in the world, because they are really the superheroes, and without them none of us would be here tonight," Yeoh said in her speech. She also added that winning an Oscar at this stage of her life offered "proof that dreams dream big and dreams do come true, and ladies, don't let anybody tell you you are ever past your prime."
Yeoh became a stepmom when she met her partner, Jean Todt.
Yeoh met French car executive Jean Todt in Shanghai in 2004 and they were engaged one year later. The couple are still engaged to each other in 2023 and it sounds like the pair are pretty loved up after all this time. When asked by Town & Country where she resides, she told them "wherever Jean is" because that's who she loves.
The Shang-Chi star also became stepmom to Todt's son Nicolas when they got engaged. Much like his father, Nicolas Todt, now 45, is involved in the world of motosports. Todt founded All Roads Management in 2003, and through that organization became manager to several famous racecar drivers. And perhaps even better, Nicolas made Yeoh a grandma.
Her granddaughter Raelyn calls her "Popo Michelle."
Nicolas Todt made Yeoh a super proud grandma or "Popo Michelle," which means "grandma" in Chinese, when he welcomed daughter Raelyn, and she could not have been happier. Yeoh's social media feed is filled with videos and photos of Raelyn and their fun times together, including their reunion after nine months apart when they celebrated with a drink. Yeoh had a glass of wine and Raelyn a sippy cup.
Raelyn is also a pretty proud granddaughter. In an adorable video shared on Yeoh's Instagram, little Reayln says a prayer in honor of her grandma's Oscar-nominated movie. "Everything Everywhere All At Once! Everything Everywhere All At Once! Everything Everywhere All At Once!" she chants in front of a cake. Perhaps she helped things along because the movie walked away with seven Oscars including Best Picture and Best Actress.
Yeoh might have millions of Instagram followers and fans across the world, but there's no debate about who's her biggest cheerleader.
This article was originally published on