Didn't See That Coming...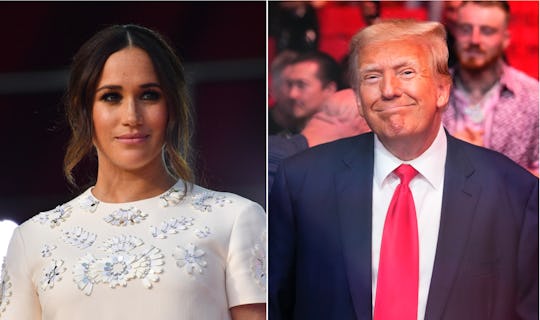 NDZ/Star Max/Getty Images/Jeff Bottari/Getty Images
Donald Trump Wants To Debate Meghan Markle & Prince Harry
He's still not sure if she likes him or not.
Donald Trump might not be willing to debate his fellow Republican presidential candidates, but he's absolutely down to go toe-to-toe with Meghan Markle. Who, just to be clear, is not running for any form of political office and who has shown no interest herself in debating the former president. That doesn't matter. He figures he's got a beef to squash with the Duchess of Sussex, and he wouldn't mind an audience.
Trump was notably absent from the first Republican presidential primary debate last month, refusing to join his fellow eight candidates to discuss issues many Americans consider vital to their voting decision for 2024. He later said he has no intention of "doing the debates," although he did not specifically state which debates he would be skipping.
We do know one thing for sure, however. If Meghan Markle has a free afternoon at some point, he would happily debate her. Trump was asked by conservative radio host Hugh Hewitt in an interview on Wednesday whether or not he would be willing to debate Markle or her husband Prince Harry for ratings, even though they "don't like him much." He was all for it.
"Oh, if you want to set it up, let's set it up. Let's go do something. I'll, I'd love to debate her. I would love it. I disagree so much with what they're doing," the 77-year-old said.
Meghan Markle could debate Donald Trump if she wants.ANGELA WEISS/AFP/Getty Images
Meghan Markle can debate Donald Trump.James Devaney/GC Images/Getty Images
Trump was actually ready to debate Hewitt on his comment that Markle and Prince Harry rather famously don't like him, in fact, rambling on about his reported close relationship with Queen Elizabeth and his belief that they treated her poorly. "I don't know that they don't like me," Trump told Hewitt, per Vanity Fair. "I said that I don't think they are very appropriate, what they're saying, what they're doing, and I didn't like the way she dealt with the queen. I became very friendly with the queen," he told the radio host. "No, I think it's not a good situation going on with the two of them, but I didn't know that they don't like me."
Neither Markle nor Prince Harry appear to like him all that much, so he's wrong about that. He was not invited to attend their royal wedding in 2018, for example, and in 2016 she told Larry Whitmore that she considered him to be "divisive," adding that she thought he was "misogynistic" while publicly sharing her support for Hillary Clinton. Her comments have gotten under his skin in the past as well, with Trump admitting in 2020 that he's "not a fan" of Markle and thinks her husband Prince Harry needed "a lot of luck" in "dealing" with her.
Honestly, now I'm kind of hoping this debate does happen.