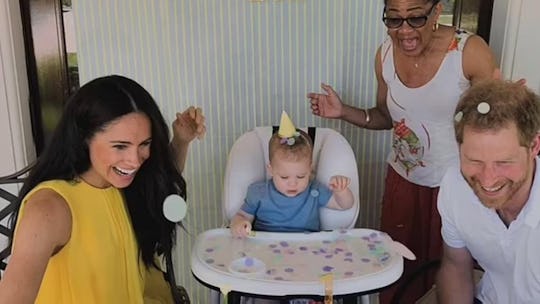 Netflix
Doria Ragland Wore A Simple Gold Necklace With Archie & Lilibet's Names Engraved On It
Meghan Markle's mom Doria Ragland is a hands-on grandma. She stayed with her daughter and Prince Harry for a month in England after their first child, Archie Harrison, was born before their nanny arrived, she helped her grandson learn to walk, and she wears personalized jewelry to truly solidify her Proud Grandma title.
Ragland recently attended a gala in New York City for the Ms. Foundation Women of Vision Awards with the Duke and Duchess of Sussex, who was honored with an award for her "global advocacy to empower and advocate on behalf of women and girls." In her acceptance speech, Meghan thanked her own mother for introducing her to Ms. magazine, the first national feminist publication co-founded by Gloria Steinem in 1971, when she was a young girl. "I was too young at the time to know what most of it meant. But I also knew that to my mom, to my dear mom, who I'm honored to have with me tonight, I knew the significance of these magazines was important," Meghan said in her speech. "I mean, it wasn't a one-off. She had a subscription and having these pages in our home, it signaled to me that there was just so much more than the dolled-up covers and the images that you would see on the grocery store covers. It signaled to me that substance mattered."
At the event supporting her daughter, Ragland wore a V-neck black knee-length dress with sheer sleeves and simple, yet symbolic gold jewelry. And if you look close enough, her necklace, as Hello! was first to spot, has her grandchildren's names "Archie" and "Lilibet" engraved in cursive on the circular pendant. (Meghan, of course, is also a fan of symbolic jewelry to pay tribute to her children and her husband.)
Doria Ragland with Prince Harry and her daughter Meghan Markle at the Ms. Foundation Women of Vision Awards on May 16, 2023 in New York City.Kevin Mazur/Getty Images
Doria Ragland's gold necklace with her grandchildren's names "Archie" and "Lilibet" written on the pendant. Gotham/GC Images/Getty Images
Ragland, a yoga instructor and former social worker, typically stays out of the spotlight, but when she does speak publicly, she's made her love for her daughter, grandchildren, and son-in-law very clear. In the couple's Netflix docuseries Harry & Meghan, Ragland said that while dealing with the paparazzi in the years after Meghan met Harry has been "challenging," she was very happy that her daughter met "the one." She also noted that she thought Prince Harry was a "handsome man with red hair" and had "really great manners."
Since Harry and Meghan moved to Montecito, California, Ragland has been around for her grandchildren's big moments, including Archie's 4th birthday party and Lilibet's christening, where she reportedly danced to songs that were also performed at Meghan and Harry's wedding reception in 2018. And there's no doubt she'll be celebrating her granddaughter's 2nd birthday on June 21.