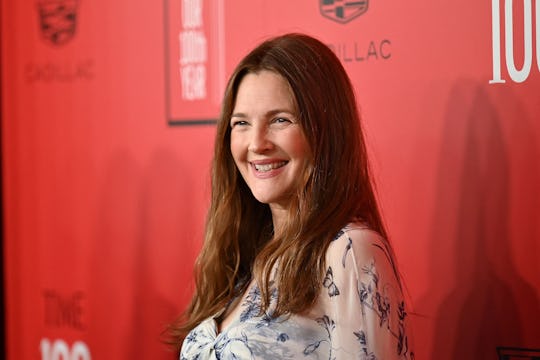 ANGELA WEISS/AFP/Getty Images
Drew Barrymore Says She "Cried So Hard" At Taylor Swift's Concert With Her Daughters
"Thank you for the best night of our lives."
Taking her daughters to a Taylor Swift concert was a deeply emotional experience for Drew Barrymore. The 48-year-old mom of two admitted in an Instagram post that she "cried so hard" during Swift's performance, especially as it pertained to a life-changing moment from her past. How her daughters felt about their mom openly weeping at a Taylor Swift concert is anyone's guess, but I think we all know how our own kids would feel about it.
Barrymore took to Instagram on Tuesday to share a series of photos from the concert, including one taken of her face as Swift performed. She looks incredibly emotional and focused, with her hands clutched under her chin. In fact, Barrymore does indeed look like someone who is ready to cry in the photo. She does not credit anyone with the photo but it could have been taken by either her 10-year-old daughter Olive or her 8-year-old daughter Frankie, who she co-parents with ex-husband Will Kopelman, as they both joined her at the concert. What song could Swift have possibly been singing? According to Barrymore's post, it seems likely that she sang "Welcome To New York" because this was the song that hit her hardest.
"I cried so hard when you sang welcome to NEW YORK. I moved here not knowing where my life was going. And I actually found myself so happy in this chapter. I also cried watching my daughters and cousin Sadie watch and love and sing to someone so admirable. YOU. I LOVE YOU TAYLOR SWIFT!!!!!!!!" Barrymore wrote on Instagram, adding that she sees Swift as "the role model all of us girls and women need."
"Thank you for one of the best nights of our lives," she added. "We are so lucky to have seen your show."
The talk show host went on to share in a message for Swift that she and her daughters listen to her music every day. "We listen to you on vinyl every morning to get ready for our day," Barrymore wrote. "You transcend. And make life beautiful. Everyone passing beaded bracelets around. Witnessing the good."
Barrymore's emotional response to Swift's concert is absolutely in keeping with her personality. She has made it clear on her talk show that she is comfortable being transparent and vulnerable, even in uncomfortable situations. Like when she experienced her very first perimenopausal hot flash during an interview with Jennifer Aniston and Adam Sandler. Or when she opened up about her fear of dating as a single mom.
Drew Barrymore is all about embracing every emotion. Even if it means crying at a Taylor Swift concert with her daughters. We support.